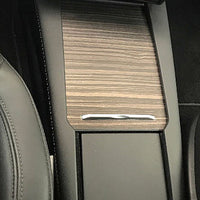 2012-2020 | Model S & X Center Console Sliding Drawer Wrap - Variety*
List price:
$36.25
Sale

• Save
Installation difficulty: Hard 3/5
Description
This vinyl product covers up the existing material on your center console.  Many were made in 2016 in plain black vinyl so it does not match the dashboard finish.  Others may want this because they are using our Dashboard Conversion Kit to convert their car to carbon fiber.
This Wrap provides protection and style to the Tesla OEM Center Console's Sliding Drawers that fit all Model X's, and Model S with the OEM Tesla self-closing consoles.  
Clear Bra it placed over the top for Glossy protection and Obeche Wood Pattern are our newest vinyl wrapping patterns.  For Obeche, the grain can be forward or side to side. Choose your preference.
If you have the carbon fiber dashboard but your Model S or Model X came with a plain flat black self-closing sliding drawer, this will make your car look great and will match your dash.
3M's carbon fiber has a satin finish, it is not Matte or Glossy. It is in the middle.
Installation is easy, just pull back the lower half and place it down around the handle. Then unroll it as you go and squeegee the air out.
Compatibility
Fits all Model S or Model X's
Installation
Our installation videos provide the necessary information to correctly install our products. Therefore, we strongly recommend that you watch the installation video/s both before ordering and before installing our products.
INTERNATIONAL ORDERS
We ship worldwide, and International Customers are responsible for all import fees, duties, VAT, GST, TAX, handling fees, and all other import costs in their respective country.  The shipping fees RPM collects only cover shipping & handling.