Cubby Drawers For Model S & X
Our Drawer transforms this recessed shelf into an enclosed organized drawer that extends out so you can see what's inside this handy location. It's a perfect for storing smaller items in a secure place. It just slides right inside the shelf and it stays locked in place. All Tesla owners love extra storage and our drawer is secure and out of sight. Typical items kept inside include; business cards, mints, change, nail files, toothpicks, clippers, key cards, keys, wallets, sun glasses, reading glasses, etc...
All Model S & Model X have a shelf, or a cubby hole opening below their dashboard display. This shelf is not very functional. As Tesla owners, we found 3 problems with this shelf. 1. Objects on the shelf fly out when you accelerate. 2. The shelf is not secure, as valuables can be seen when somone looks in your windows. 3. Since the shelf is under the dash board's display objects can barely be seen by the driver. The shelf is just not practical, so we made our cubby drawer to fix these 3 issues.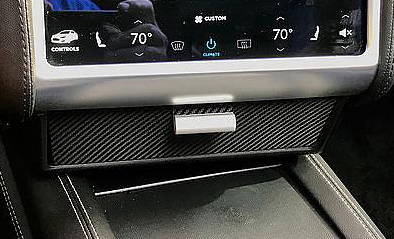 When you open our Cubby Drawer, rubber bumpers stop it from opening too far, so it never falls out. Our drawers are fully lined with black velvet so it is soft to the touch, but the velvet stops items from sliding around inside during turns or duringaccelerating or braking. We even sell an optional LED light that only illuminates only when when you open the drawer.
Installs in 20 seconds and no tools are required. Check out our videos below.
---
Our Cubby Drawer is very practical, functional, and now more affordable.
    Cubby Drawer Choices -
Left or

Right hand

Drive
All of our Drawers come with a fully lined black velvet interior.
You get to choose the inside T Logo color and the drawer front material.
​
1. Click on one of the 9 drawer finishes to get started.
    3. Select LED Light option for $15, (or choose none).
Front Wrapped Finish Choices :
$ 39 Satin Black Finish - Right out of the mold
$ 52 Vinyl Wrapped Choices, Carbon Fiber, Piano Black, White Satin, or White Carbon Fiber in 3M 1080 Vinyl
$ 55 Obeche Matte 3M Wrap, or custom Vinyl colors
$ 59 Obeche Glossy 3M, or Black Alcantara (faux suede)
$ 72 Black or Tan Real Leather, or Real Black Suede
Prices listed above are based on our 20% off
discount for all orders over $125.
---
Cubby Drawer Videos - Installation thru Functionality
Watch this simple installation & removal video. We explain where to place the adhesive rubber bumpers.
Video with Front Wrap choices
Our Cubby Drawers are the best. We understand what our competitors offer and below are 7 reasons why RPM's Drawer is the best money can buy.
RPM'sCubby Drawer Features:
  1. Solid injection molded part made of Lustran Plastic.          
2. Aluminum handle matches the display bezel perfectly.
3. A fully lined black velvet interior, holds objects in place.
4. "Locking Lip" keeps the drawer locked- Launch Mode Proof
5. Rubber Stop Bumpers prevent you from opening too far.
6. Optional Real Leather front panel not fake plastic vinyl.
 7. Drawer Front Options:  Alcantara, Suede, Carbon Fiber
            Wrapped, Obeche, White Satin, Real Leather & Suede.
Made in USA by Tesla owners.
---
Our Competitor's fall short, these reasons:
Shells       :     Very thin plastic, made of cardboard & glued pieces.​
Handles   :   Tacky gaudy Tesla "T", & cheap jewelry box type.
Lining:         Smelly reclaimed rubber pads (made from up old tires)
                        Objects still slide around inside.
Locking   :     No locks to stay in place, fly out with acceleration.
Opening :   Most open too much and fall out they stopping system.
Fronts:         Many made from imitation leather and look cheap. with
                      flimsy sides and soft corners that get dented.  
If you want the best made drawer buy ours, and if you want the best drawer front buy our real 100% Leather or suede front. Half the price of our competitors, and still the best design and function.
RPM's Cubby Drawers are never going to fall apart. Guaranteed for life. They are rock solid and made from 1 single piece of injection molded plastic. They are not made from cardboard, or from glued pieces of plastic like our competitors. These cheaply made drawers will not hold up over time. Heat in your parked Tesla will deteriorate our competition's glued construction shell over time.
---
LED CUBBY LIGHTING OPTION
Our Tesla Cubby Drawers now light up when you pull them open. This $15 option gives you an LED motion sensing light. These super bright 6 LED's lights dramatically improves visibility inside the drawer during the day and at night. The bright LED light only turns on when it senses motion inside the drawer, then it turns off after 15 seconds. Just put in 2 AAA batteries and your drawer will have lighting for hundreds of hours. It snaps in and out with a magnetic/adhesive piece. We have selected 2 great locations inside the drawer for the light. Watch our video below to see which works best for your storage needs.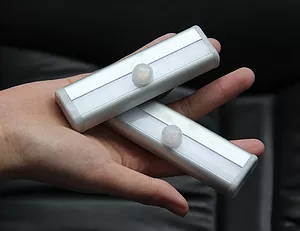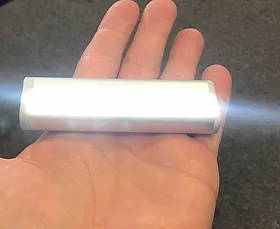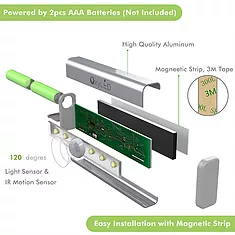 LED Light specifications: Aluminum construction, Wattage: 0.5W, Brightness: 48lm, LED Quantity: 6 pcs, Detection Range: 120°, Detection Distance: 3 m/9.84 ft . Color: Daylight White, Working Temperature: -25?~+40? Size: 3.75" 1.25" x 1/2"