Model 3 4D All-Weather Floor Mats, Odorless TPE
List price:
$97.50
Sale • Save 25%
Sale

• Save
Sale price range: $37 - $185
Installation difficulty: Easy 1/5
Description
 TESLA MODEL 3 "Finish Your Frunk Kit"
Do NOT buy this kit if your Model 3 was built in August 2020 or later. Your Frunk has changed on the size of the bottom and the bolt holes no longer can hold our clips. Please only order if your Model 3 was made from 2017-July 2020.  You can see your build month inside the door jam of your driver's front door.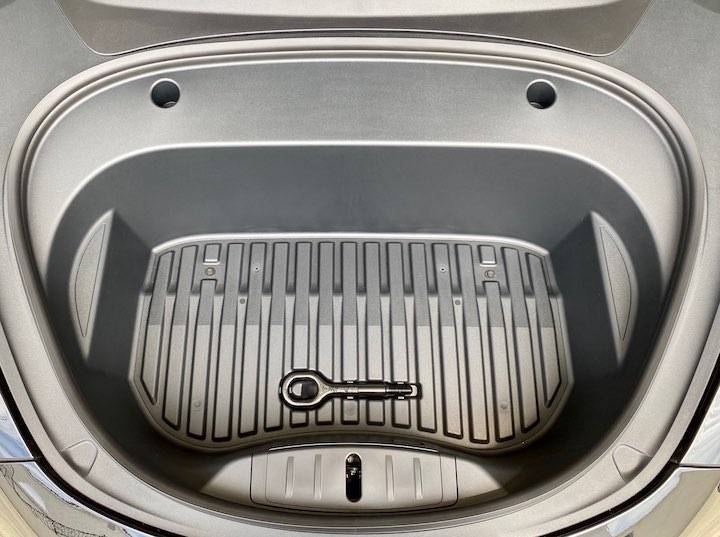 MATS ARE OVERSIZED AND CAN NOT SHIP 2ND DAY AIR
New 4D Mats for Model 3 - 4D is beyond 3D Featuring Extreme Floor Protection. Higher up to 4 inches of side wall protection for to hold melted snow, liquids, spills, sand, and anything you want to keep off your Model 3 carpet.
Odorless, and super soft for anti slipping of objects in your trunk. These are not made from rubber, and not vinyl, but made from a TPE, Thermal Plastic Elastomer.  Just like TESLA's OEM mats, but 35% less with Free Shipping in the Contiguous US.
You can protect your entire Model 3 with our 6 piece kit. You get 3 for the interior, 2 front and 1 for the whole back seat, then you get one for your Frunk, and 2 for the trunk.  A full size trunk mat, and the sub trunk mat.  They are awesome and you will love them.  
Interior Mats: a set of 3 pieces, 2 front pieces and 1 long piece for the back seat.
Trunk Mats: we offer a piece for the sub trunk and a piece for the full trunk,
Front Trunk Mats, Frunk: we have a full piece for the front trunk or Frunk.
Ordering is simple:  
Select your Interior Mats or None

Select your Trunk Mats, None or Full size or Sub Trunk or both

Front Trunk Mat - Select None or Frunk
Compatibility
Fits 2017-2020 Model 3's Only
Installation
Check the Description Tab above to watch our SELF installing instructional videos.
Our installation videos provide the necessary information to correctly install our products. Therefore, we strongly recommend that you watch the installation video/s both before ordering and before installing our products.