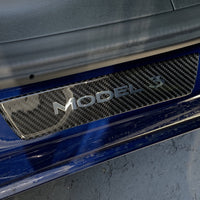 Model 3 Molded Carbon Fiber Rear Door Sill Covers (1 Pair)
List price:
$31.25
Sale

• Save
Installation difficulty: Easy 1/5
Description
Molded Carbon Fiber Front Door Sill Covers for the back seat
Cover up and protect your back door sills with REAL Carbon Fiber door sill covers. These Molded carbon fiber parts are coated with thick PU polyurethane and include impregnated silver "Model 3" letters.  These are not vinyl stickers but real carbon fiber.
Installation:  Clean the surface of the door sill on your Model 3 with water or alcohol. Peel the backing off the Molded Carbon Fiber Door Sill and place the Sill down and rub your hand over it to make sure the glue grips firmly.  For cold weather installation, heat the adhesive side of the sill and the door sill with a blow dryer/heat gun then apply.
To remove cloudy residue: use a blow dryer/heat gun to gently heat the surface of the sill
Removal:  To remove the door sill, use a hair blow dryer or heat gun to the molded carbon fiber door sill. Heat it up until it lifts up easily.  Then clean the door sill with rubbing alcohol to remove any remaining residue.
Installation
Our installation videos provide the necessary information to correctly install our products. Therefore, we strongly recommend that you watch the installation video/s both before ordering and before installing our products.
INTERNATIONAL ORDERS
We ship worldwide, and International Customers are responsible for all import fees, duties, VAT, GST, TAX, handling fees, and all other import costs in their respective country.  The shipping fees RPM collects only cover shipping & handling.