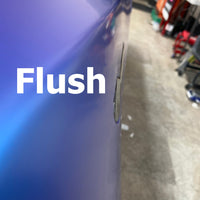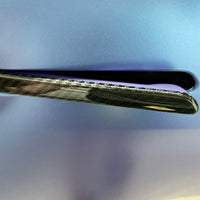 Model 3 Door Handle Overlays - Real Molded Carbon Fiber
List price:
$148.75
Sale

• Save
Installation difficulty: Moderate 2/5
Description
(Set of 4)
PLEASE WATCH OUR INSTALLATION VIDEO BEFORE ORDERING THESE. YOU MAY HAVE TO ADJUST THE WAY THEY FIT IF THEY RUB ON YOUR DOOR HANDLE EDGE. WE DEMONSTRATE HOW TO DETERMINE THIS BEFORE YOU INSTALL THEM IN OUR VIDEO.
SORRY THESE DO NOT FIT MODEL Y. THE POSITION OF THE DOOR HANDLE ASSEMBLY IS NOT CONSISTENTLY POSITIONED INSIDE THE DOORS.
Protect you chrome door handles while adding real Carbon Fiber handle caps with our Dry Molded Carbon Fiber Door Handles caps.
These are beautiful caps that fit right over your door handles. Simple to install, just peel and stick. We explain it all in our installation video. Please check out the DEMO video as well before you order.
Until now we have offered vinyl handle wraps for your door handles, but now you can install these right over your vinyl handles or directly on the chrome stock handles.
INSTALLATION TIPS:  First please watch our installation video, and some locations of Model 3 door handles are not assembled exactly the same inside some doors, and sometimes our caps can hang up and not close all the way, or they may rub when you push in the thumb side.
This can be corrected by slightly moving the cap up or down, or right or left. We suggest you try each of the 4 doors WITHOUT removing the red double sided backing tape. Please make sure your door handles open and close all the way before removing the red backing tape and installing these.
With the red tape still on, you simply move the cap around to verify the best location of the cap. You may notice the caps dragging on the top or bottom edge of the door handle hole. If this happens please remember not to install them too high or too low as you will reproduce the problem when you do the real installation.
ADJUSTING:  
If you notice the handles dragging after installation, we suggest the following steps:
Step 1: Use a heat gun or hair dryer on the handle as this will liquify and soften the double sided adhesive on the back.  Make sure the double sided adhesive gets really hot.  Then you will be able to make minor adjustments by pushing the overlay in the opposite direction of where its making contact with your door. 
Step 2:  Warm up the handle overlay again and remove it slowly.  If the double sided tape remains stuck to the carbon fiber overlay, just try to reinstall it in a better location to avoid the dragging.  If the tape comes off the overlay or sticks to your door handle, please let us know so we can send you a new pre-cut inlay of double sided tape.
Note: Be careful if following Step 2. snapping, cracking, or chipping the door handle overlay is not covered under our warranty.  You may email us at rpmtesla@gmail.com to verify if we have replacements available. If not, then we may have to sell you an entirely new set.
DEMO:

INSTALLATION:
Warranty
Carbon Pattern Warranty: Real Molded Carbon Fiber is hand laid and is not Prepreg Wet Molded, so it may show imperfections in pattern direction. These variations are normal and are not a manufacturer's defect. Please refer to our Return Policy if you would like to return them.

UV Warranty: Our Real Molded Carbon Fiber is coated with 3 coats of UV Protection. Over time without proper care from waxing or applying a nano-ceramic coating, this protection can wear off. The warranty is limited to 1 year. Slight yellowing is normal for carbon fiber when parked outside in direct sunlight and is not covered under our warranty. To extend the life of our Carbon Fiber, we recommend using "303 Protectant". Ceramic coatings will assist with UV protection and we recommend Ceramic Pro.

NOTE: These are considered USED as soon as the double sided adhesive liner is removed. Used items are NOT RETURNABLE so please be sure you're happy with the way it looks and place it on your TESLA before removing the adhesive liner.

Installation
Our installation videos provide the necessary information to correctly install our products. Therefore, we strongly recommend that you watch the installation video/s both before ordering and before installing our products.
INTERNATIONAL ORDERS
We ship worldwide, and International Customers are responsible for all import fees, duties, VAT, GST, TAX, handling fees, and all other import costs in their respective country.  The shipping fees RPM collects only cover shipping & handling.