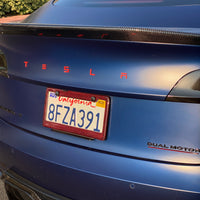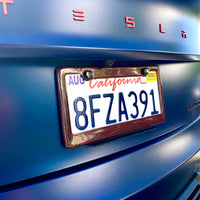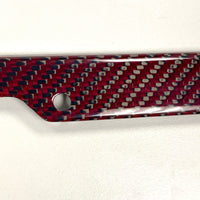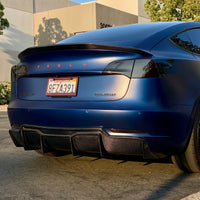 License Frame - Red Carbon Fiber
List price:
$48.75
Sale

• Save
Installation difficulty: Moderate 2/5
Description
If you love red accents on your TESLA, you will love this glossy red carbon fiber license frame.  These license frames have a very subtle color in the shade, as shown in photo #3, but in direct sunlight they shine.  They are made from real molded carbon fiber with a strong Kevlar backing.

These install on newer TESLA's with stock screws.  If your TESLA has a black plastic mounting plate on the back of your trunk and aluminum female screw holes, then you don't need to buy different size screws.  These only fit on USA license plates with stock black TESLA's Model Y screws.  You do not need to buy anything else to install these on your Model Y.
NOTE:  If you are in need of longer screws because you are using plastic caps, or washers behind the plate then you can buy 5mm-0.8 x 10mm Phillips-Drive Machine Screws at Lowe's or The Home Depot.  These only fit into the newer TESLA black mounting brackets.  Older TESLA's use wood type screws that are inserted into plastic square mounts.
DEMO & INSTALLATION:
Warranty
Carbon Pattern Warranty: Real Molded Carbon Fiber is hand laid and is not Prepreg Wet Molded, so it may show imperfections in pattern direction. These variations are normal and are not a manufacturer's defect. Please refer to our Return Policy if you would like to return them.

UV Warranty: Our Real Molded Carbon Fiber is coated with 3 coats of UV Protection. Over time without proper care from waxing or applying a nano-ceramic coating, this protection can wear off. The warranty is limited to 1 year. Slight yellowing is normal for carbon fiber when parked outside in direct sunlight and is not covered under our warranty. To extend the life of our Carbon Fiber, we recommend using "303 Protectant". Ceramic coatings will assist with UV protection and we recommend Ceramic Pro.
Installation
Our installation videos provide the necessary information to correctly install our products. Therefore, we strongly recommend that you watch the installation video/s both before ordering and before installing our products.
INTERNATIONAL ORDERS
We ship worldwide, and International Customers are responsible for all import fees, duties, VAT, GST, TAX, handling fees, and all other import costs in their respective country.  The shipping fees RPM collects only cover shipping & handling.