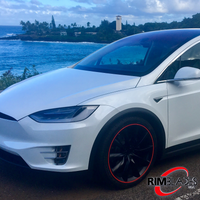 Replacement RimSaver (1 piece) - Silver $20 with 40% OFF
List price:
$33.34
Sale

• Save
Installation difficulty: Hard 3/5
Description
While it's unlikely you'll damage a RimSaver and need to replace it but if you do we are selling them individually now.  This product is for ordering replacement rim savers.  You can order 1, 2, or 3 here.
Many customers scrape curbs and need individual wheel replacements so this will make it easy to reorder them.  Just select your color and we will ship it our ASAP.
NOTE:  RimSavers are for wheels with a flat lip/edge. If you have wheels with raised or lowered sections, RimSavers can't be applied.  There is no warranty if you wheel edge is not flat and smooth. 
Compatibility
Model 3: Works on all wheels 18", 19" & 20"
Model S: Works on all wheels 19" 20" & 21"
Model X: Works on all wheels 20" & 22"
Model Y: Does not work on 19" Gemini's wheels.
Works on 20" Induction wheels
Works on 21" Überturbine wheels
Warranty
Check RimBlades USA website for the warranty
Installation
Looking for help installing your new RimSavers.
There are a couple important things you need to know:
Cleaning Instructions:
Wash the wheels with dish soap and water. If you have previously used any kind of tire shine you will need to clean the bonding surface with a shop towel and alcohol prior to using kit. Use lots of alcohol or they may come off. This is not warranted without using alcohol cleaning. After installing them please do use any tire shine or chemicals for 7 days minimum.
Dry the wheels with a shop towel. Pay close attention to the area between the tire bead and the wheel lip. This area may be saturated with tire shine, which must be removed for proper bonding.
Use the provided alcohol wipes to clean the wheel lip. Concentrate on the face of the lip where the tape will bond, as well as the area between the bead of the tire and the rim.
Use a dry paper towel to ensure that the wheel surface is clean of all tire shine, wax, and dirt. Wipe the inner and outer portion of the wheel lip, checking for black residue on your paper towel. If you find black residue, additional wheel cleaning is required. A shop towel and rubbing alcohol are recommended for any additional cleaning needed.
Our installation videos provide the necessary information to correctly install our products. Therefore, we strongly recommend that you watch the installation video/s both before ordering and before installing our products.
INTERNATIONAL ORDERS
We ship worldwide, and International Customers are responsible for all import fees, duties, VAT, GST, TAX, handling fees, and all other import costs in their respective country.  The shipping fees RPM collects only cover shipping & handling.