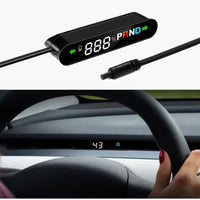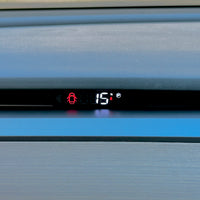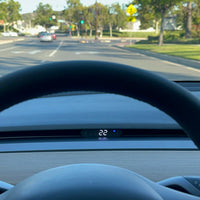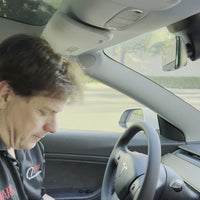 2019+ | Model 3 & Y Sight-Line Dashboard Cluster Display (3.5" Hexagonal Style)
List price:
$93.75
Sale

• Save
Installation difficulty: Moderate 2/5
Description
Our new Sight-Line Dashboard Instrument Cluster Display - 4.5in Hexagonal Display is sleek, non-airflow-blocking, affordable, and simple to install in your TESLA Model 3 or Y.  
Our Sight-Line cluster fits right below the lip of your dashboard and it contains all of the information normally found in a dashboard display cluster.
This cluster is 3.5" Wide.
We have added demo videos for both the Hexagon and the Rectangular Style Cluster displays in the image media gallery, they are the last images in the gallery.  They are demo videos.
COMPATIBILITY: Works with newest current OBD2 Port only on Model Y's & Model 3's built after February 2019.
Once installed you will not have to take your eyes off the road to look right of your steering wheel to see your speed, see if your turn signal is not left on, or check what gear position you're in. All you have to do is slightly lower your sight line right below your steering wheel.
No tools are required to install this and we teach you everything in our installation video.
Please watch our demo video below, after the demonstration you will see how simple it is to install with our walk thru 10-minute REAL TIME installation. 
INSTALLATION VIDEO:
Compatibility
COMPATIBILITY: Works with newest current OBD2 Port only on Model Y's & Model 3s built after February 2019.
Installation
Installation Video
Our installation videos provide the necessary information to correctly install our products. Therefore, we strongly recommend that you watch the installation video/s both before ordering and before installing our products.
INTERNATIONAL ORDERS
We ship worldwide, and International Customers are responsible for all import fees, duties, VAT, GST, TAX, handling fees, and all other import costs in their respective country.  The shipping fees RPM collects only cover shipping & handling.