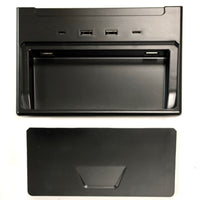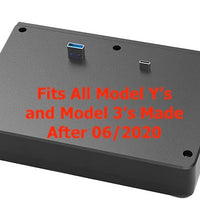 Model S3XY* USB Charging Port Dock for Center Consoles (Gen. 1 & 2)
List price:
$69.00
Sale

• Save
Installation difficulty: Easy 1/5
Description
***Discontinued Item***
The option for 'Version 2 With USB-C+A Fits All Model Y & Model 3 Post 6/2020-2021' is now a discontinued item. We are now offering a 40% OFF sale on "Version 2" but you must buy the item from this collection HERE. Please read our policy regarding Discontinued items before purchasing. You can find information regarding our discontinued items HERE.
-----------------
We have 3 version now with the center console changes.  Please read below to determine which your TESLA has.
Version 1, USB-A version only for Model 3's between 2017 and August 2020.
Version 2, USB-C+A version fits All Model Y's & Model 3's made after June 2020.
Version 3, With 2 USB-C Ports found in later 2021-2022 Model 3 & Y & Model S and X 2021 & 2022's with 2 USB-C Charging Ports. 
Our USB Hub Dock splits the 2 USB ports inside your center console into 6 ports for USB-A Version, and 5 Ports for USB-C+A Version.  This hub doc also provides a secure place to hide your Sentry Mode thumb drive while helping to clean up your center console wires.  No more splicing wires or using connector wires to separate data & power.  
6-in-1 USB Hub for Charging & DashCam Recording
Our Model 3 & Y USB Hub allows you to use up to 5 or 6 different devices for charging and data purposes. It features 2 front USB-A and 2 USB-C connectors. Inside the lower hidden compartment you can ad a thumb drive Sentry Mode Dash Cam storage as well as an additional thumb drive for much storage.
How it Works:
Just plug it in to the 2 ports and you are ready to plug in your cell phone wires and a sentry mode flash drive along with music storage drives.
NOTE:  Version 1 & 2  is not compatible with our FULL SIZE storage trays, and only works with our HALF SIZE storage trays. Click to order one for $29.
All Ports Have Data & Power Transfer Capabilities.  Ours features 2 front Type-C connectors and 2 front USB-A connectors, along with 1 USB-A connector inside the hidden panel for Dashcam recording. The left USB-C port on the USB Hub for all Model Y and post-June 2020 model 3s preserve the rapid charge (18w IIRC).
NOTE:  Model Y & Model 3 Owners
There are 3 versions types of USB's in Model 3's, Model 3's made from 2017 until May of 2020 have 2 USB-A type female connectors inside your center console, and Model Y's and Model 3's Made after June 2020 have 1 A-USB and 1 USB-C. Version 3 has 2 USB C Ports but they are not on the firewall closest to the dashboard, but they are directly below the opening of the sliding drawer, below the handle.
Please verify which type you have before ordering.
Installation:
Please watch our installation video. The first is the basic video and the 2nd is the USB-C Version.  This is a little more difficult to get the USB's plugged in.  Please watch it before ordering.
DEMO & INSTALLATION:
Installation
Installation Video
Our installation videos provide the necessary information to correctly install our products. Therefore, we strongly recommend that you watch the installation video/s both before ordering and before installing our products.
INTERNATIONAL ORDERS
We ship worldwide, and International Customers are responsible for all import fees, duties, VAT, GST, TAX, handling fees, and all other import costs in their respective country.  The shipping fees RPM collects only cover shipping & handling.