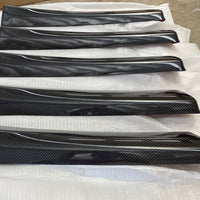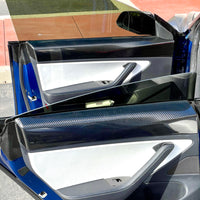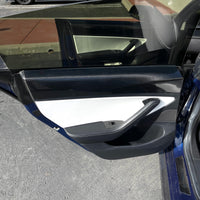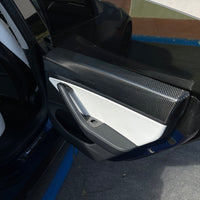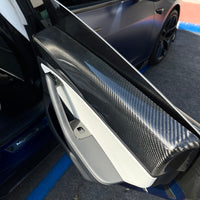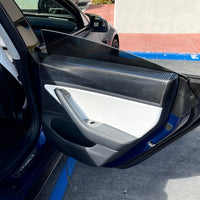 Model 3 Rear Door Panel Overlays - Real Molded Carbon Fiber
List price:
$436.35
Sale

• Save
Installation difficulty: Easy 1/5
Description
The Rear Door Panel Overlays are made from Real Molded Carbon Fiber and come in as a pair.  They are amazing and add a beautiful sporty finished look to your interior.  We offer these in 2 different finishes.  The first finish is a glossy finish, also called a wet look.  The glossy finish looks more three dimensional than the matte.  The second is a matte finish, also called a dry look.  With the matte finish there is less glare and reflection, but also less depth.
DEMO & INSTALLATION:
Warranty
Carbon Pattern Warranty: Real Molded Carbon Fiber is hand laid and is not Prepreg Wet Molded, so it may show imperfections in pattern direction. These variations are normal and are not a manufacturer's defect. Please refer to our Return Policy if you would like to return them.

UV Warranty: Our Real Molded Carbon Fiber is coated with 3 coats of UV Protection. Over time without proper care from waxing or applying a nano-ceramic coating, this protection can wear off. The warranty is limited to 1 year. Slight yellowing is normal for carbon fiber when parked outside in direct sunlight and is not covered under our warranty. To extend the life of our Carbon Fiber, we recommend using "303 Protectant". Ceramic coatings will assist with UV protection and we recommend Ceramic Pro.

NOTE: These are considered USED as soon as the double sided adhesive liner is removed. Used items are NOT RETURNABLE so please be sure you're happy with the way it looks and place it on your TESLA before removing the adhesive liner.
Installation
There is no drilling, or screwing needed. The Door Panel Overlays hold on with double sided 3M VHB tape. Just wipe off your overlays with alcohol. Then, apply the 3M Adhesive promoter we included, around the perimeter of the door panel and let it dry for 30 seconds. Then, peel off the adhesive liner and press it over the door panel for it to stick on. It takes only 10 minutes to install. After it is installed, we suggest using painters tape to exert more pressure on the double sided tape to ensure a strong bond. 3M says 72 hours is needed for it to fully bond, so please keep it taped down during these 3 days.
Our installation videos provide the necessary information to correctly install our products. Therefore, we strongly recommend that you watch the installation video/s both before ordering and before installing our products.
INTERNATIONAL ORDERS
We ship worldwide, and International Customers are responsible for all import fees, duties, VAT, GST, TAX, handling fees, and all other import costs in their respective country.  The shipping fees RPM collects only cover shipping & handling.