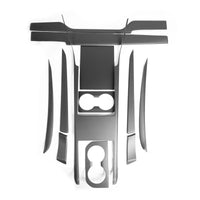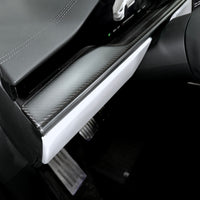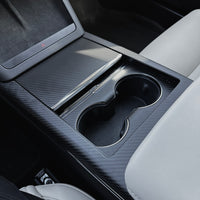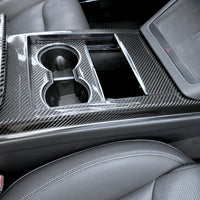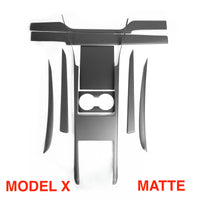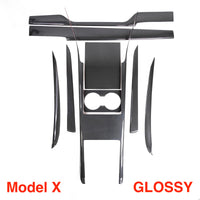 2021+ | Model S & X Interior Upgrade Kit "Go Plaid" (9 & 12 Pieces) - Real Molded Carbon Fiber
List price:
$1,665.38
Sale

• Save
Installation difficulty: Easy 1/5
Description
Say goodbye to the wood interior decor in your Model S or X with our new the 100% Real Dry Molded Carbon Fiber Overlay Kit. 
When you purchased your TESLA Model S or X you may have wanted a carbon fiber interior but couldn't get with unless you ordered a Plaid, this simple to install overlay kit is the solution!
This Full Interior Overlay Upgrade Kit will transform your Model S or X to the same carbon fiber interior only found in Plaid models.  Every piece in this kit is made from  100% Real Dry Molded Carbon Fiber. These are available in a Glossy or a Matte finish. 
This 9 or 12-piece overlay kit will lay on top of your current wood interior trim and will  upgrades your Interior to a Plaid. This will transform each piece of wood including your dashboard, sliding tray, center console, door panels, cup holder(s), and even the D-Pillar behind your back seat in a Model S.  Our Model X kit has 9 pieces, and the S has 12 pieces as shown in the photos.
We also are offering 2 other accent pieces for your Model S or X are the wireless charging pad, and steering wheel bezel.
These  complimentary items have Links here: Charging Base &  Steering Wheel Bezel.
Installation Disclaimer: This product is some what of a permanent upgrade. In our installation video we explain the risk of damaging the stain on the original wood. Once this is installed the stained wood can be damaged if you attempt to remove it.  The adhesive double sided tape is strong.  
We also recommend using the strong adhesive promotor for an even stronger bond to the stock wood.  However, if you only use the alcohol prep, the adhesive tape can still pull off the stain on the wood, and if this happens, you are responsible for the damage done (if there is any), to your OEM wood. If you are leasing, this upgrade is not recommended.
Initial Order Notes: Original orders from March 7th, we shipped out the Model S kit without the backseat cup holder overlay because we had to update a small defect in our mold.  Since then, this item has be shipped out to all early ordering customers. Also the center console front arm that extended under the glove box, was trimmed short on a few orders that shipped out.  This is sometimes visible on Model S's & X's with the Walnut Decor, and almost invisible to see with the Ebony Decor.  Regardless, we are have updated our molds to fit perfect. 
INSTALLATION:
Our Demonstration &  REAL TIME Installation video is below.  You can install this entire kit in 25 minutes.  Please watch it before ordering. 
 Demo & Installation Video: 
Compatibility
Only compatible with 2021-2023 Refreshed Long Range Model S & Refreshed Long Range Model X with the Walnut or Ebony Decor.

Installation
Installation Video:
Our installation videos provide the necessary information to correctly install our products. Therefore, we strongly recommend that you watch the installation video/s both before ordering and before installing our products.
Shipping information: Regular
If you are in Southern California, and want to pickup your order, we are located at 23201 Antonio Parkway, Rancho Santa Margarita CA 92688, please select "Pickup" at checkout.
Variable Shipping Cost Note: When purchasing multiple oversize products, shipping cost will be calculated for each oversized product individually.
NOTE* To see if your order qualifies for lower cost shipping method, please email us with your shipping address prior to purchasing.
INTERNATIONAL ORDERS: International Customers are responsible for all import fees, duties, VAT, GST, TAX, handling fees, and all other import costs in their country. The shipping fees RPM collects only covers shipping & handling.
INTERNATIONAL ORDERS
We ship worldwide, and International Customers are responsible for all import fees, duties, VAT, GST, TAX, handling fees, and all other import costs in their respective country.  The shipping fees RPM collects only cover shipping & handling.