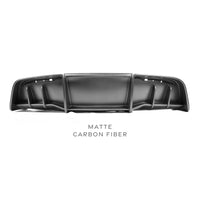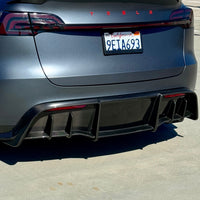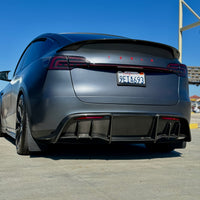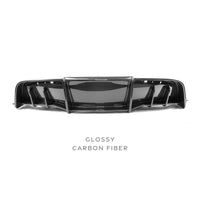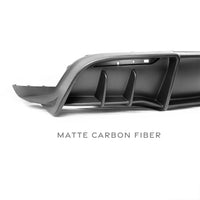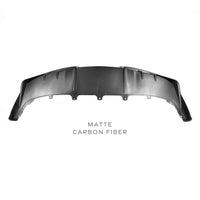 Model Y Colossal Rear Replacement Diffuser - Real Dry Molded Carbon Fiber
List price:
$2,133.75
Sale

• Save
Installation difficulty: Hard 3/5
Description
LEAD TIME:  2-3 weeks weeks for new orders!
Our New Colossal Rear Diffuser Replacement is made from Dry Molded Carbon Fiber.  We also have new matching side skirts and 2 new front lips.  All made from dry molded carbon fiber.  
Our new Colossal model will give your Model Y rear end the sportiest aggressive look possible.  It does not have access to the hitch. This diffuser replacement attaches directly to your rear bumper and to the underside of your Model Y.  It connects by using your stock hardware screws and grommets and it fits directly into the OEM hardware locations.
This is not an overlay or a copy and there is no drilling, no tape, no screw tapping.  This replaces your stock diffuser and it fits perfectly flush with the underside panel and looks totally original.
We take immense pride in crafting these exceptional dry molded carbon fiber parts to perfection. However, our meticulous manufacturing process, designed to ensure the utmost quality, operates at a slower pace compared to wet molded carbon fiber parts. This deliberate approach is what sets our products apart, guaranteeing unparalleled quality and visual excellence.
Shipping:   Shipping is expensive in the 7 feet tall box, and local pick up has no shipping if you are in Southern California, and we install this for only $160.  Shipping is $200 in the Contiguous USA. Other Shipping Rates are below, and in California it is only $175.
Please watch our videos below to learn more.
The first video is a demo of the diffuser where we explain the difference of dry molded carbon fiber and wet molded. Our is hand made in dry molded carbon fiber.
The second video is our installation video.   In this video we explain how to remove your stock plastic diffuser and how to install the carbon version.  The video is of our plastic replacement diffuser, but installation is exactly the same for this new dry molded carbon fiber version.  This replacement carbon fiber version is installed exactly the same way with all original TESLA clips grommets.  
All that you have to do is remove your rear bumper and diffuser, and our replacement diffuser clips right into the bumper and it holds on below the rear end in same clips and OEM connection points.  No drilling screwing or using double side tape is use to install this.
Our Installation Skill level is set to 3, but any handy Model Y owner can do this installation. Please watch video below to confirm your abilities.
Video # 1 - Demo
Video # 2 Full Installation - Bumper Removal and Full Installation
Compatibility
Fits All Model Y's with no access hitch area
Warranty
Carbon Pattern Warranty: Real Molded Carbon Fiber is hand laid and is not Prepreg Wet Molded, so it may show imperfections in pattern direction. Also, they are made from a two piece mold where the top and the bottom of the spoilers are joined together. As a result spoilers may show a visible seam where the two pieces of mold fuse together. These variations are normal and are not a manufacturer's defect. Please refer to our Return Policy if you would like to return them.

UV Warranty: Our Real Molded Carbon Fiber is coated with 3 coats of UV Protection. Over time without proper care from waxing or applying a nano-ceramic coating, this protection can wear off. The warranty is limited to 1 year. Slight yellowing is normal for carbon fiber when parked outside in direct sunlight and is not covered under our warranty. To extend the life of our Carbon Fiber, we recommend using "303 Protectant". Ceramic coatings will assist with UV protection and we recommend Ceramic Pro. Lastly, after you install it we recommend wrapping it in clear bra paint protection film. This will only work on the glossy finish, and will prevent pitting, scratching and denting over time.

Trunk Closing Warranty: If repeated pressure is exerted on the top of the spoiler, like when closing your trunk, the spoiler can crack or split at the fused seam. This is not covered by warranty and is considered wear and tear. We do offer a solution for this, called Tailgate Closing Handle, which will allow you to close your tailgate on your Model 3 or Model S without pressing on your spoiler or your tailgate lid. You can search our Model 3 Tailgate Closing Handle in the search bar above. You do not have to order this item, instead you can close your tailgate as TESLA recommends by pulling down on one of the 2 handles inside the tailgate. Unfortunately it's very hard to close it all of the way, since the handles are on the inside.

Marginal Trunk Warranty: As you know, Tesla's are mass produced. As a result there is room for marginality of many of our products, especially our spoilers. Because of this, we ask that you don't remove our adhesive liner before installing. If you remove the adhesive liner, your order will no longer qualify for return or refund. If you aren't sure if your TESLA falls under this marginal category and you believe that the spoiler will not fit, we will ask you for multiple images and video evidence. This evidence will help us verify that your trunk was molded differently, therefore the spoiler would not be a good fit. Once we receive the evidence and can verify that the spoiler is not a good fit for your trunk, we will provide you with a free return label. When returning, the spoiler should be in the same condition as when you first received it to qualify for a refund.

NOTE: These are considered USED as soon as the double sided adhesive liner is removed. Used items are NOT RETURNABLE so please be sure you're happy with the way it looks and place it on your TESLA before removing the adhesive liner.
Installation
Installation video:
Our installation videos provide the necessary information to correctly install our products. Therefore, we strongly recommend that you watch the installation video/s both before ordering and before installing our products.
Shipping information: XL
If you are in Southern California, and want to pickup your order, we are located at 23201 Antonio Parkway, Rancho Santa Margarita CA 92688, please select "Pickup" at checkout.
Variable Shipping Cost Note: When purchasing multiple oversize products, shipping cost will be calculated for each oversized product individually.
NOTE* To see if your order qualifies for lower cost shipping method, please email us with your shipping address prior to purchasing.
INTERNATIONAL ORDERS: International Customers are responsible for all import fees, duties, VAT, GST, TAX, handling fees, and all other import costs in their country. The shipping fees RPM collects only covers shipping & handling.
INTERNATIONAL ORDERS
We ship worldwide, and International Customers are responsible for all import fees, duties, VAT, GST, TAX, handling fees, and all other import costs in their respective country.  The shipping fees RPM collects only cover shipping & handling.