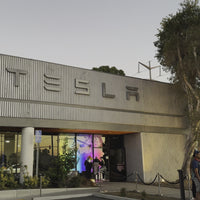 Model S3XY UnderGlow LED Ground Effects RGB Lighting Kit - Infrared
List price:
$61.25
Sale

• Save
Installation difficulty: Easy 1/5
Description
We finally are fully stocked up with our TESLA UnderGlow LED kits.  These are designed to fit any Tesla Model and they are easy to install and very bright and intense.  Each of the 4 connected LED strips has enough slack between the strips to fit all Tesla Models as well as any car.
Connection and Function:  just connect the positive and negative wire leads to your 12 or 15 volt battery under your hood and the LED's come alive.  With the remote you can choose from any 15 preset colors, and you can turn the LED's on and off and brighter or dimmer.  Once turned on you can make them flash, and swell and fade as we demonstrate in the video.
There are a total of 382 waterproof Diodes encased in the 4 diode strips with 90 on the front & rear with 104 diodes on each side.  
Included:  4 Packets of adhesive promoter, wire clip holders, and 1 remote control.  This remote control also controls our other RGB footwell, door, and trunk lights.  Only 1 remote for all of our RGB kits. 
Installation:  Time to install is about 45 minutes with a jack or at lift.  Please watch out demo and installation video below before ordering.  We show in detail how to install this.  
Demo & Installation Video: 
Installation
Installation Video:
Our installation videos provide the necessary information to correctly install our products. Therefore, we strongly recommend that you watch the installation video/s both before ordering and before installing our products.
INTERNATIONAL ORDERS
We ship worldwide, and International Customers are responsible for all import fees, duties, VAT, GST, TAX, handling fees, and all other import costs in their respective country.  The shipping fees RPM collects only cover shipping & handling.