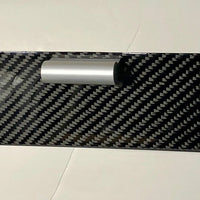 Model S & X Cubby Drawer with Molded Carbon Fiber Front
List price:
$87.00
Sale

• Save
Installation difficulty: Easy 1/5
Description
This is not a Carbon Fiber wrap but made from real molded carbon fiber with a gel resin front. It is a perfect match for the Tesla Carbon Fiber interior.  
The drawer is fully lined with velvet. This improved lining stops objects from sliding around inside the drawer while adding a beautiful elegant look to the drawer interior.
Be sure to select the color for the interior T Logo or you may leave it plain.
This drawer is awesome and rock solid, made from injection molding a single solid piece. No silly magnets like our competitors, just a great fit. The rubber bumpers prevent you from opening it too much and it will not fly open even with Ludicrous mode engaged.
Please watch the video to understand the function and ease of installation. Simple to remove or clean as well.
Already own one of our drawers? Want to upgrade the front, see the next item and watch our installation video to see how easy you can upgrade this.
WARRANTY:
We offer a 1 year warranty on the adherence of this carbon fiber overlay.  This carbon fiber piece is held on with double side adhesive.  Over time, with temperature variations, this adhesive can lose its stickiness.  If this happens you can heat up the underside that may be loose with a hair dryer or a heat gun. Just clean it with alcohol and simply apply it.
When you apply heat 2 things will happen.  First, the adhesive will become more tacky and it will hold to the plastic drawer front.  Second, the carbon fiber will be more flexible and bendable when it is warmed up so it is easy to re-apply.  Once it is stuck to the cubby drawer, please use some strong tape to hold it on. wrap it around the side of the drawer so pressure is applied.  Keep the duct tape, or gorilla tape on for 3 days for the tape to hold.
If you still have a bonding issue we can sell you a replacement piece at 50% off.
DEMO & INSTALLATION:
Compatibility
Fits all Tesla Models S and X, 2012 - Present LEFT HAND DRIVE ONLY
Installation
Our installation videos provide the necessary information to correctly install our products. Therefore, we strongly recommend that you watch the installation video/s both before ordering and before installing our products.
INTERNATIONAL ORDERS
We ship worldwide, and International Customers are responsible for all import fees, duties, VAT, GST, TAX, handling fees, and all other import costs in their respective country.  The shipping fees RPM collects only cover shipping & handling.