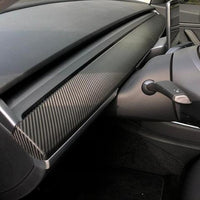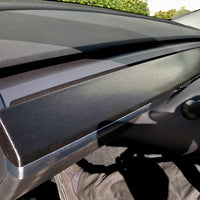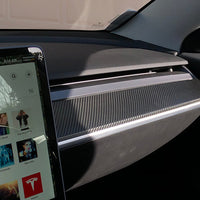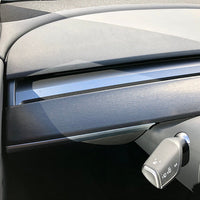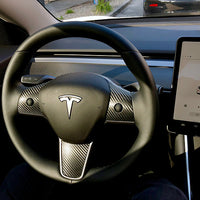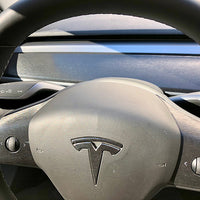 Model 3 & Y Vinyl Dashboard Wrap (Gen. 2)
List price:
$74.00
Sale

• Save
Installation difficulty: Expert 4/5
Description
This is a 1 piece wrap, with no overlap behind the dashboard display.  It is a little harder to install than our 2 pieces design, and is $5 more.  It also has improved end caps, where we added an additional miter cut to minimize the overlap noticeability on the end cap sides.  See photos 3 and 4 above.  This is the LINK to our new 1 piece installation video.  Please watch it before ordering.
Everyone loves their Model 3's but some find the wooden strip on the dashboard a little non complimentary.  We agree and thus we created this item to cover up the wood.  Not permanent, but the colors we have are really matching and very attractive.
Super simple to install, just unroll it, and place it over the porus wooden strip on the Model 3 Dashboard.  Squeegee it in place and that is it.  We have made a new video and it will be uploaded soon.
Made from 3M 1080 Vinyl Wrap in:  Carbon Fiber, Brushed Black Metal, Brushed Steel, and Brushed Titanium.  We can make this in Matte Black, White, or any color to match your car as well.  We have glossy and matte colors to choose from.  Just check out our "Vinyls" tab on the website.
DEMO & INSTALLATION:
Installation
Our installation videos provide the necessary information to correctly install our products. Therefore, we strongly recommend that you watch the installation video/s both before ordering and before installing our products.
INTERNATIONAL ORDERS
We ship worldwide, and International Customers are responsible for all import fees, duties, VAT, GST, TAX, handling fees, and all other import costs in their respective country.  The shipping fees RPM collects only cover shipping & handling.