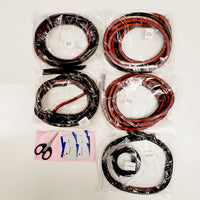 Model 3 & Y Road Noise Reduction Kit - Gen. 2 (10 Pieces)
List price:
$56.36
Sale

• Save
Installation difficulty: Moderate 2/5
Description
Gen. 2 - 10 Piece Kit, Now Includes Seals for the Trunk & Frunk 

If you are tired of hearing the road noise in your Model 3 or Model Y, this will really help.  This Gen. 2 - 10 piece kit is completely self installing and it actually works to make your car quieter, up to 5 dB quieter.
We all know TESLA's have to live up to a higher standard of quietness. This is because there is no loud engine, and no exhaust system to cover up road and wind noise. This kit makes your car quieter because we add seals to vertical door edges, as well as doubling up the bottom door seals, and now the trunk seals are included to help make your interior quieter. The bottom door seals also keep water and dirt from getting inside your door sills as well.
This kit really makes a difference, just like our windshield noise reduction kit for windshield wind noise, and like our Trunk and Frunk Sound Dampening Kits. These are separate items we suggest if you want to make your car even quieter. Both are very easy to install.
The expandable rubber seal fills up the gaps between your doors, trunk and frunk. This super soft sponge rubber compound was selected for outdoor use with its ozone resistance.  This version is made from a soft EPDM Sponge rubber compound and comes with our lifetime warranty unlike Ebay and Amazon products.
NOTE:  The Adhesive Promoter no longer comes in a bottle form like in the installation video.  It comes in a wipe on type disposable packet.  There should be at least 4 wrapped inside of the micro fiber cloth that is sent.
INSTALLATION:

This installs in less than 30 minutes, and no tools are needed.
Preparation is easy.  Just wipe clean, all of the door trunk edges with rubbing alcohol, then use the included adhesive promoter on the same edges.
DEMO & INSTALLATION:
 Below we have 2 videos, the first is our original made for the Model 3.  The 2nd is an addendum for Model Y owners.  Please watch both.
 MODEL Y  Owner - Watch This Video
Installation
Below we have 2 videos, the first is our original made for the Model 3. The 2nd is an addendum for Model Y owners. Please watch both.
Our installation videos provide the necessary information to correctly install our products. Therefore, we strongly recommend that you watch the installation video/s both before ordering and before installing our products.
INTERNATIONAL ORDERS
We ship worldwide, and International Customers are responsible for all import fees, duties, VAT, GST, TAX, handling fees, and all other import costs in their respective country.  The shipping fees RPM collects only cover shipping & handling.