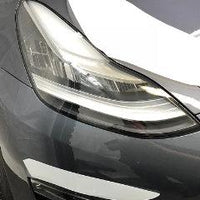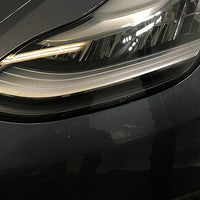 Model 3 & Y Headlight Protection Film (Set of 4) - Clear or Smoked
List price:
$64.99
Sale

• Save
Installation difficulty: Hard 3/5
Description
Choice of Clear 3M Scotchgard Pro or Slate Smoked by Xpel.
Protecting your headlights from rock chips and road debris is very smart. Headlights get chipped over time and replacing Tesla headlights is very expensive. This investment will keep them looking brand new for many years to come.
This product is formulated with a high performance acrylic adhesive which bonds well to a variety of surfaces.  XPEL HEADLIGHT Protection Film is designed to resist staining and offers superior environmental resistance.
Our kit comes with 4 cut out patterns, both headlights and 2 lower fog light covers. We provide the soap concentrate, and the soft turbo squeegee. The last photo shows the difference between the clear and tinted.    
Caution:  Check with your local authorities before installing.  Xpel says this Slate Smoke film is not DOT approved and Expel shows it is for off-road use only.  Use at your own risk.  Slate Smoked 50% VLT Version is a 50% light blocking film made by Xpel. This version looks great, but it does make your headlights look dimmer.  Tinted headlight film is not legal in many states so please check your regulations.  Xpel states the Visible Light Transmission is 50%, but we have light metered it and measured it at 15 percent dimmer than an untinted headlight.
Here is a link to the data sheet from Xpel. LINK 
DEMO & INSTALLATION:
Installation
Our installation videos provide the necessary information to correctly install our products. Therefore, we strongly recommend that you watch the installation video/s both before ordering and before installing our products.
INTERNATIONAL ORDERS
We ship worldwide, and International Customers are responsible for all import fees, duties, VAT, GST, TAX, handling fees, and all other import costs in their respective country.  The shipping fees RPM collects only cover shipping & handling.