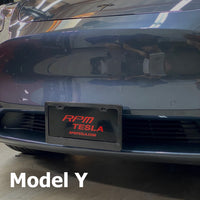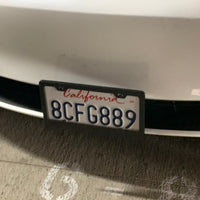 Model 3 & Y License Plate Lowering Bracket - Touchless
List price:
$98.75
Sale

• Save
Installation difficulty: Hard 3/5
Description
NOTE:  Model Y Installation is exactly the same, but you must lift up the bracket by 1/4" after you place it inside the grill area. This way the bolts will line up correctly.

Our new "Touchless" front license plate bracket lowers your front license plate by more than 5 inches and it holds onto the lower louver area below it.
Our "Touchless" bracket does not touch your paint in any way and it looks much better than the plastic stuck on version because more of your Model 3's front end design is revealed. See our 2nd photo where we place the stock bracket where it sits 5 inches above ours. Best of all, our version is not stuck to your car with double sided tape like the stock bracket is, so there is no risk of damaging your paint over time.
KEY FEATURES:
Lowers license plate by 5 inches enhancing the front end's design view.
Touch-less - No part of the entire assembly will touches your paint.
It bolts on and can be removed anytime.  
Made from Powder Coated Steel with stainless steel nuts and bolts.
No drilling or screwing into your bumper.
No double sided tape is used that can damage your paint over time.
No Autopilot or parking sensor interference.
Self installs in only 15 minutes. (As long as you watch our installation video)


STOCK Bracket Removal:  
To remove your plastic TESLA version just use warm air from a hair dryer or heat gun and warm up the adhesive under the plastic bracket, and slowly pull it away from the front bumper. Apply more heat to soften the double sided adhesive. It's held on by 3 pieces of double side tape. Once pulled off just clean it up with rubbing alcohol and then wax as normal. Then install the RPM Touchless version.
CAR WASH CAUTION:
This is designed for Touch Less car washes where brushes are not used. We always recommend Touch Less car washes, hand washing, or foam cannon washing. If your bracket is damages in a car wash it is not warranted. We will sell you replacement parts are needed, but damage can result on you front grill so avoid car washes with moving brushes.
DEMO & INSTALLATION:
Compatibility
Not Compatible with the Radiator Protective Mesh Grill Panel
Fits Model 3 and Model Y
Installation
Our installation videos provide the necessary information to correctly install our products. Therefore, we strongly recommend that you watch the installation video/s both before ordering and before installing our products.
INTERNATIONAL ORDERS
We ship worldwide, and International Customers are responsible for all import fees, duties, VAT, GST, TAX, handling fees, and all other import costs in their respective country.  The shipping fees RPM collects only cover shipping & handling.