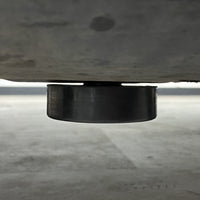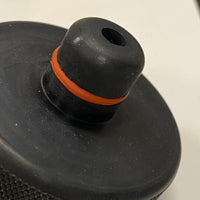 Model 3 & Y Jack Point Adapter Pads (Gen. 2 w/ Case) Set of 4
List price:
$36.25
Sale

• Save
Installation difficulty: Easy 1/5
Description
Does not fit Austin Texas Built Model Y's After March 2023.  Holes are now smaller.
Gen. 2 includes a set of 4 molded rubber pucks and a nylon carrying case with a carrying strap.  Each have our locking orange o-ring that holds the puck in place so you can slide a jack under the puck to lift safely.

You cannot just jack up a Tesla without protecting the underside of your car. On a Model 3 & Model Y there are only 4 locations with small entry points for jacking them up. Without an adapter, you will scratch the underside of your car or even damage the battery tray or frame.
Why buy a set of 4? Well if you have 2 jacks you can jack up one side of your Model 3 or Y, making it easy to rotate your tires front to back. With 4 jacks you can jack up the entire car, and with 1 jack you can swap out a wheel 1 at a time.
Many people ask us why they need these jack point adapters for their Model 3 & Y. Here is a list of the 3 most common reasons:
For rotating tires on your model 3.

Swapping out wheels for summer or winter.

If you get a flat tire, most tow truck companies don't carry Tesla Jack Point Adapters so they could damage your battery tray when the jack up your car to change your tire.
Don't waste your hard earned money on overpriced magnetic sets or adapter sets with hex shaped tightening screws. They are not needed and way overpriced. Ours are molded rubber in 1 solid piece, they are not hockey pucks with screwed in tips like the ones found on Ebay and Amazon.
When you insert the rubber tip inside into the hole you simply turn them once and the locking orange o-ring holds them in place you can slide your jack underneath the car.  
Simple and not expensive.
DEMO & INSTALLATION:
Compatibility
Does not fit Model Y Made after March 2023 made in Austin Texas
Installation
Our installation videos provide the necessary information to correctly install our products. Therefore, we strongly recommend that you watch the installation video/s both before ordering and before installing our products.
INTERNATIONAL ORDERS
We ship worldwide, and International Customers are responsible for all import fees, duties, VAT, GST, TAX, handling fees, and all other import costs in their respective country.  The shipping fees RPM collects only cover shipping & handling.