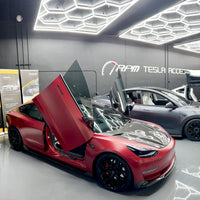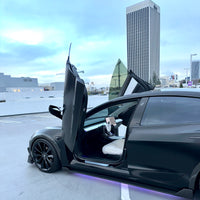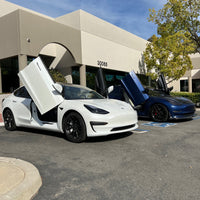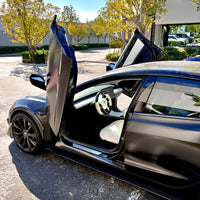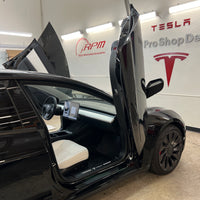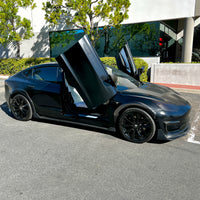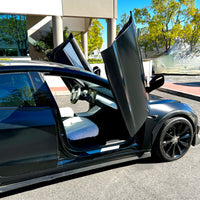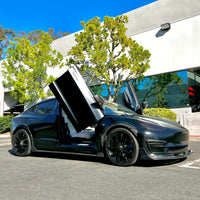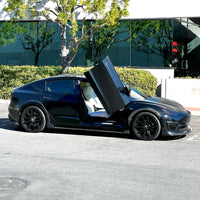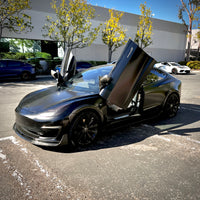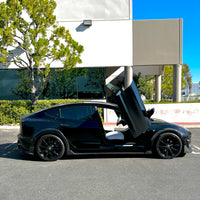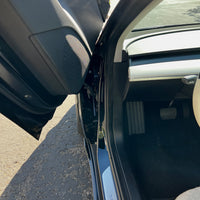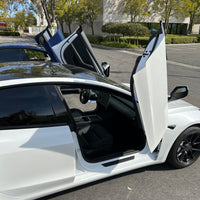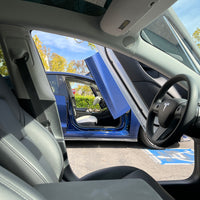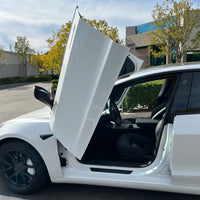 Model 3 Scissor Doors Conversion Kit from Vertical Doors
List price:
$4,868.75
Sale

• Save
Sales Price:
$2628 - $3798
Description
TESLA Model 3 2017-2023 Scissor Door Conversion Kit.
STOCK:   Lead time is 3-4 weeks for new orders. 

RPM TESLA is a dealer and installer of Vertical Doors for your TESLA Model 3. We install these in 5-6 hours.


DEMO VIDEO:  Please watch our DEMO Video below to learn more.
INSTALLATION:  We now have our full installation video as shown below, and the written instructions are the last photo.

What's Included:

2 Gas Shocks
2 Vertical Doors, Inc., Lambo Door Hinges (one for each side)
All Mounting Hardware
Direct "Bolt On" Hinge Kit
Mounts to Factory Bolt Pattern
Made in the USA from Domestic Hardened Steel
Patented in the USA
Completely Reversible


This is a vertical door kit for any TESLA Model 3 made from 2018-2023.

This Scissor Lambo Door Conversion Kit made specifically for your vehicle. VDI manufactures only the best, highest quality, strongest, and most affordable kit for the quality. Our line-up includes all of the major vehicle manufactures. Our system is everything you need for a successful, reliable and cost effective conversion in a minimum amount of time. Vertical Doors, Inc., kits are proudly made and patented in the United States. Bolt-on kits made specifically for your vehicle.


Is it hard to install Vertical Lambo Doors?
It is fairly easy as long as you are mechanically inclined and have basic tools.
Our bolt-on kits come with your vehicles factory bolt patter for an easy install. A 6-12 page instructions manual is provided along with free tech support. We prototype every kit to be as easy as possible to install.
Is it difficult to operate the doors after the Conversion?
Not only is our kit easy to install but is also easy to operate. Basically open your door like normal until it stops at a predetermined position then raise your door. Every kit comes with a shock that will take most of the door weight making it easy to raise the door up. Our kits give you the freedom to open your door as factory, unlike most imitators, Lambo Doors, Scissor Doors, Wing Doors, Butterfly Doors, Lamborghini Doors, etc. Your TESLA Model 3 will keep its factory look and feel while you are driving but the moment you stop and raise your doors you will experience a whole new level of attention that no other upgrade can give you. We have a few videos that will give you a good idea of how the Bolton Lambo Door Conversion works.
Is this a safe Vertical Lambo Door hinge?
With over a decade in the market we have seen just about everything. The two main components of the Vertical Doors, Inc., hinge are made from 3/8 and 1/2 inch steel making them virtually bullet proof and able to withstand just about anything.
This Vertical Doors, Inc., product is covered under multiple U.S.A patents. USA PATENTS WILL BE AGGRESSIVELY ENFORCED!
Are all TESLA Scissor Doors the same?
No, Vertical Doors, Inc. is the only USA manufacturer. We use domestic carbon steel and all our pivot and strike points are heat treated.



DEMO VIDEO:  
INSTALLATION VIDEO - DIY INSTALL:
Installation
Installation Video
Our installation videos provide the necessary information to correctly install our products. Therefore, we strongly recommend that you watch the installation video/s both before ordering and before installing our products.
INTERNATIONAL ORDERS
We ship worldwide, and International Customers are responsible for all import fees, duties, VAT, GST, TAX, handling fees, and all other import costs in their respective country.  The shipping fees RPM collects only cover shipping & handling.