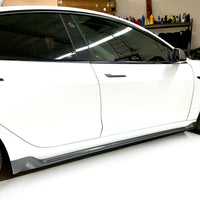 Model 3 Side Skirts ABS Plastic (4 Piece Kit) - Variety*
List price:
$298.75
Sale

• Save
Installation difficulty: Moderate 2/5
Description
Our new sleek affordable Model 3 ABS Plastic Side Skirts are easy to install and inexpensive for us to ship because each side is comprised of 2 pieces.  The side skirts have dual front and rear upward-facing flanges that match many rear diffusers and front lip spoilers.  They do not extend the lowering of your Model 3, so there are no clearance issues as the sides are not lowered once installed.
*Choice of Finish:
Option 1:  Hydro Carbon Fiber Coated Glossy
Option 2:  Hydro Carbon Fiber Coated Matte
Option 3:  Satin Black Coated
Option 4:  Glossy Black Painted
Please watch our demo and installation video before ordering.  
DEMO& INSTALLATION:
Warranty
Carbon Pattern Warranty: All of our Hydro Printed products use a process called Hydro Dipping. This Water Transfer Process is also susceptible to Pattern Variations. These variations are normal and are not a manufacturer's defect. Please refer to our Return Policy if you would like to return them.

UV Warranty: Our hydro carbon fiber coated and painted products are coated with a UV protection layer. However, this layer can be worn off if left in direct sunlight or from car washes and other forms of abrasion. The warranty for this form of wear and tear is 6 months. Over time the paint may fade or lose its shine. To extend the life of these products, we recommend using "303 Protectant". This will enhance the UV protection. Ceramic coatings also assist with UV protection. We recommend Ceramic Pro and 3M Ceramic.

NOTE: These are considered USED as soon as the double sided adhesive liner is removed. Used items are NOT RETURNABLE so please be sure you're happy with the way it looks and place it on your TESLA before removing the adhesive liner.
Installation
These side skirts fit great and install in 30 minutes. All of the hardware needed to install these are included. All you need is a screwdriver or screw gun. The side skirts hold on with 3M double sided tape and 8 self tapping screws on each side. They tap into the plastic rocker panels under your doors. No screwing is needed thus preserving your paint. Simply clean the rocker panels, then apply the adhesive promoter that's included and adhere the side skirts with pressure. Then tap the hardware in.
Our installation videos provide the necessary information to correctly install our products. Therefore, we strongly recommend that you watch the installation video/s both before ordering and before installing our products.
Shipping information: Regular
If you are in Southern California, and want to pickup your order, we are located at 23201 Antonio Parkway, Rancho Santa Margarita CA 92688, please select "Pickup" at checkout.
Variable Shipping Cost Note: When purchasing multiple oversize products, shipping cost will be calculated for each oversized product individually.
NOTE* To see if your order qualifies for lower cost shipping method, please email us with your shipping address prior to purchasing.
INTERNATIONAL ORDERS: International Customers are responsible for all import fees, duties, VAT, GST, TAX, handling fees, and all other import costs in their country. The shipping fees RPM collects only covers shipping & handling.
INTERNATIONAL ORDERS
We ship worldwide, and International Customers are responsible for all import fees, duties, VAT, GST, TAX, handling fees, and all other import costs in their respective country.  The shipping fees RPM collects only cover shipping & handling.