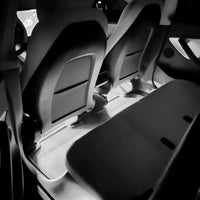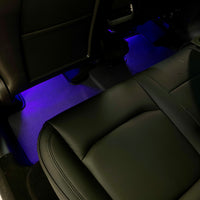 Model 3 & Y* Backseat Adjustable Footwell Lighting Upgrade Kit (1 Pair)
List price:
$69.00
Sale

• Save
Installation difficulty: Moderate 2/5
Description
Brighten Up The Backseat in Your Model 3 or Model Y with our Backseat Ambient Lighting Upgrade Kit.  Model 3 Owners with Partial Premium Interiors:  These lights will not work as the footwell do not turn on unless you have the Full Premium Interior option.
Both Model Y's and 3's are so dark in the backseat area.  These adjustable LED lights will lighten up your entire backseat for your passengers.  These connect with your front footwells LED lights, and they share the same stock white light or you can chose one of our colored lights if you have our colored front footwell lights.
These LED lights are super bright when your car is in park, and they dim automatically when you shift into drive.  They mirror the intensity of your front footwell lights, and they stay illuminated while you drive at night.
NOTE:  You can vary the brightness while driving by simply adjusting your dashboard display screen's brightness.  Simply click on your Display Settings and slide your display screen's brightness up and down. This will brighten or dim your display along with all of your ambient lights.  This includes footwell lights and door pocket lights (Model 3's only).  You can really set the mood in your cabin from 1% to 100% maximum ambient brightness. Watch our video how we explain this commonly unknown function of your TESLA.
Why are these the better?  Our backseat LED lights feature a soft flexible silicone rubber base along with 30 bright diodes while our competitors only have 12, and with RPM's you won't have to unbolt your seats from the chassis to install them. We made ours flexible so they slides right under the seat rails when you install them. Our competitors inflexible version require you remove your seats in order to install theirs in a Model 3.
Choice of Color:  Blue, Red, Ice Blue, or White.
You will love these, and if you don't have colored front footwell lights, be sure to add a pair by clicking HERE.  Many owners find the stock white front footwell lights distracting at night when they drive, and our colored lights are the solution.  Our colored LED lights add a personalized look while making the footwell lights softer and less distracting.
Buy with confidence, as these LED lights come with a lifetime warranty, and if you don't like them for any reason, just send them back, as we do not charge any restocking fees.  
DEMO & INSTALLATION:  No drilling, no wire splicing, just plug and play, and no risk of damaging your car.  Installs in less than 15 minutes per side, and for Model 3 owners you do not need to loosen any seat bolts as our flexible LED light fits right under the seat rails.  
Compatibility
Fits all Model Y's, and Model 3's with premium interiors only
Does NOT fit partial premium interior
Installation
Our installation videos provide the necessary information to correctly install our products. Therefore, we strongly recommend that you watch the installation video/s both before ordering and before installing our products.
INTERNATIONAL ORDERS
We ship worldwide, and International Customers are responsible for all import fees, duties, VAT, GST, TAX, handling fees, and all other import costs in their respective country.  The shipping fees RPM collects only cover shipping & handling.