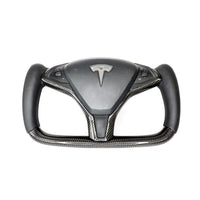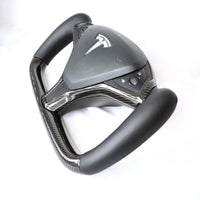 2012-2020 | Model S & X Yoke Steering Wheel - Real Molded Carbon Fiber
List price:
$1,748.75
Sale

• Save
Sales Price:
$974 - $1364
Installation difficulty: Easy 1/5
Description
ESTIMATED LEAD TIME:  10 Pieces in Stock now, then 2 to 4 weeks for new orders.
Brand new for 2023, this non-heated steering wheel upgrade is for Model S's made from 2012 thru Jun of 2020, and Model X's made from 2016-2021.
This Yoke steering wheel will give you the feeling of the new refreshed 2021+ Tesla Model S & X.  These fantastic carbon fiber molded steering wheels are the best you can buy, and in stock now!  
We make this yoke version with 2 finish choices, Glossy or Matte Carbon Fiber.  You also choose from full carbon fiber, or carbon fiber with leather handles in white or black smooth leather.  Our leather handles are made from soft Itailian Napa Leather side handles.
Here is how it works. First you are buying a Tesla OEM Steering wheel, and your airbag assembly and switches gets removed from your current wheel and put right into this carbon fiber wheel. We show you how to move the center in our video below.
To make the Yoke Style Wheel, we first buy these Tesla and Tesla customers, and then then we remove the leather cover and the poly urethane rubber under it, leaving a steel wheel core.  We alter the round shape to make it a Yoke style, and then we vacuum form mold the carbon fiber to the wheel core then reinstall a super soft Napa leather on the right and left side of the wheel.  It only takes 30 minutes to install and you can keep your original steering wheel for $400 extra.
With your purchase we ship your new wheel to you along with the 2 sockets you will use to remove and reinstall the wheel.  If you live in Southern California we will install your new wheel for free.
We manufacture these with a Glossy or Matte finish, with Black or White leather handles.  We stock the most popular combinations and many order ship out right away.  Please call or text us at (949) 988-0750 and we will check our current inventory status for your combination today.
Installation is free in Southern California. Installation is very easy as well. 
Our pricing includes returning your current wheel, or pay $400 extra to keep it.  Also, if you have a heated steering wheel now, you can keep this function.  Steering wheels are obtained through authorized Tesla service centers.
WHITE LEATHER HANDLE WARNING:  
Our white leather handles are made from very expensive Italian Nappa Leather.  It is very soft to the touch, but white leather is prone to getting dirty, staining, and even premature surface wearing can happen when exposed to higher levels of acidity from hand perspiration.
Damaging the white leather can become an issue depending on the acidity level of your hand perspiration which varies from person to person.  With white leather side handles we recommend wearing driving gloves to keep perspiration off the leather surface, or holding the wheel on the carbon fiber top or bottom areas and avoiding repeated contact with the white leather handles unless driving gloves are worn.
This wear and tear is not covered by warranty, but we can replace the leather handles with new white or black leather for $179.
CLEANING and SEALANT:
For both black and white leather handles we recommend using mild soap and water to clean the carbon fiber and the leather handles.  Leather conditioner is recommended as leather can dry out, and something like mild baby wipes will clean your steering wheel, but to increase longevity, we recommend using a leather sealant to protect the white leather, or even a nanoceramic leather treatment like Ceramic Pro.  We use Ceramic Pro 9H to seal the white vinyl seats in many customers cars and we use the leather Ceramic Pro treatment on steering wheel leather as well.  
Shipping outside the contiguous USA is extra.  Please email us with your address so we can calculate your shipping before you order.  We do not provide core return shipping outside the contiguous US.
DEMO & INSTALLATION:
WHITE AIR BAG WRAP:
Compatibility
This non-heated steering wheel upgrade is for Model S's made from 2012 thru Jun of 2020, and Model X's made from 2016-2021.
Warranty
Carbon Pattern Warranty: Real Molded Carbon Fiber is hand laid and is not Prepreg Wet Molded, so it may show imperfections in pattern direction. These variations are normal and are not a manufacturer's defect. Please refer to our Return Policy if you would like to return them.

UV Warranty: Our Real Molded Carbon Fiber is coated with 3 coats of UV Protection. Over time without proper care from waxing or applying a nano-ceramic coating, this protection can wear off. The warranty is limited to 1 year. Slight yellowing is normal for carbon fiber when parked outside in direct sunlight and is not covered under our warranty. To extend the life of our Carbon Fiber, we recommend using "303 Protectant". Ceramic coatings will assist with UV protection and we recommend Ceramic Pro.

Installation
Our installation videos provide the necessary information to correctly install our products. Therefore, we strongly recommend that you watch the installation video/s both before ordering and before installing our products.
INTERNATIONAL ORDERS
We ship worldwide, and International Customers are responsible for all import fees, duties, VAT, GST, TAX, handling fees, and all other import costs in their respective country.  The shipping fees RPM collects only cover shipping & handling.