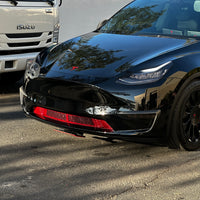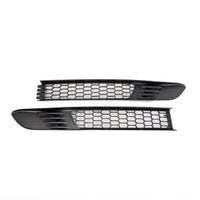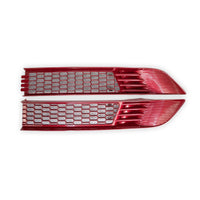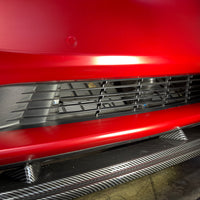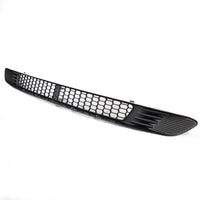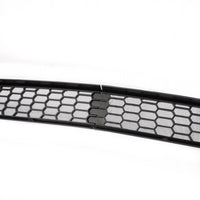 Model Y Radiator Protective Mesh Grill Panel (2 Pieces) - Red, White, or Black
List price:
$98.75
Sale

• Save
Installation difficulty: Easy 1/5
Description
Colors !  Now chose from red, white, or black. Red and white add visible accents to your Model Y and Black matches nicely.
Protect your Tesla, as this is one of our newest must-have 2 piece protective accessories for all Tesla Model Y owners.
Our 2 Piece Radiator Protective Mesh Grill Panel stops bugs, rocks, and other road debris from denting the fins on your front intake radiator, as well as preventing the puncturing of the radiators.  Other, larger things like leaves and bugs can really restrict the needed airflow through your radiator and evaporator from working properly.
Yes, TESLA's do have a front radiator that requires airflow to cool the evaporators for the air conditioning system and to cool or heat the battery tray as needed. 
Our mesh panel is made from strong ABS plastic and we insert stainless steel wire mesh on the backside.  This fine mesh is like having a screen door in front of your radiator.  The mesh stops leaves and rocks and smaller objects from interfering with the required airflow and they also stop objects from puncturing your radiator.
This can save you thousands of dollars in repair bills as a punctured radiator is not covered by a warranty.  Minimize your chances of paying thousands of dollars for a new front radiator with this protective panel.  These are made in Satin Black and match the trim on your Model Y.  They simply protect and improve the look of the inlet area.  Check out our before and after photos.
DEMO & INSTALLATION:
Very easy.  Just wipe the sides clean, and peel the double sided tape liner.  Then, press in to the air intake vent area.  Apply pressure on the ends and you are done. The video shows how to instal our 1 piece design, but the installation for the 2 piece is the same but you do one side then the other.
Compatibility
Not Compatible with the Model 3 & Y License Plate Lowering Bracket - Touchless
Fits all Model Y 5 & 7 seaters
Installation
Installation Video
Our installation videos provide the necessary information to correctly install our products. Therefore, we strongly recommend that you watch the installation video/s both before ordering and before installing our products.
INTERNATIONAL ORDERS
We ship worldwide, and International Customers are responsible for all import fees, duties, VAT, GST, TAX, handling fees, and all other import costs in their respective country.  The shipping fees RPM collects only cover shipping & handling.