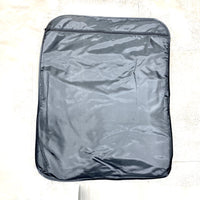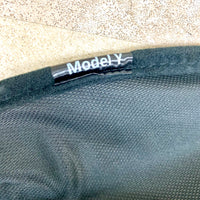 Model Y Sunroof Sunshade with Blockout Screen & Holding Magnet (1 Piece) - (Free Ground U.S. Shipping)
List price:
$98.75
Sale

• Save
Installation difficulty: Easy 1/5
Description
The Model Y's large glass roof allows a tremendous amount of sunlight and heat to pass through them heating up the Model Y's cabin. This is mainly because the glass roof has smoked glass, but it is not tinted. The smoked glass provides some UV resistance, but very limited IR reduction. Without adding window tint to your glass roof, this item is a must.
Our sunshade is made from a lightweight mesh fabric with a collapsible rigid aluminum frame. It comes with 8 self holding invisible like clips and it covers up every inch of your roof's glass. This fits perfect and can be installed and removed easily to be used as needed. It folds up very easily and fits in the included plastic pouch. Store it in the front sub trunk area of your Model Y.  
At RPM we have our sunroofs tinted with 3M Crystalline window tint, but for the greatest heat reduction but we also have these sunshades installed. This is a must if you park your Model Y in sunlight all day long. We also suggest a windshield sunscreen as well for total protection. They are only $39. CLICK HERE to learn more.  
Check out our demo video to learn how to install it and remove it. Click on the TAB above to learn more.
NOTE: 
This 1 piece kit screen will hand down 2-5 inches in the center of your sunroof as we explain in the video. We have found that it is not necessary as it does not interfere with vision or with you back seat passengers head room.  
To solve the sagging problem, we are including 2 magnets as shown in the photos.  This will  raise the secure the center up to the center of the glass eliminating the sagging. Please watch the 2nd video below starting at 8:45 seconds to learn more.
DEMO & INSTALLATION:
MAGNET INSTALLATION (STARTS AT 8:45). SAME AS MODEL S:
Installation
Our installation videos provide the necessary information to correctly install our products. Therefore, we strongly recommend that you watch the installation video/s both before ordering and before installing our products.
INTERNATIONAL ORDERS
We ship worldwide, and International Customers are responsible for all import fees, duties, VAT, GST, TAX, handling fees, and all other import costs in their respective country.  The shipping fees RPM collects only cover shipping & handling.