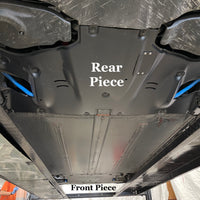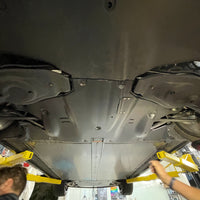 Model 3 Skid Plates - Aluminum with Road Noise Reducing Urethane
List price:
$343.75
Sale

• Save
Installation difficulty: Moderate 2/5
Description
Our Sound Dampening Aluminum Skid Plates will protect your Model 3 front and rear drive units while dampening road noise.  They are made from 1/8" thick powder-coated aluminum along with 1/8" sound dampening urethane foam.  The skid plates are simple to install using all original TESLA screws.  

The Model 3's are produced with a flimsy cloth-like material in front of, and behind the battery trays.  This cloth can easily tear or rip, and or be punctured by speed bumps, steep driveways, or even road debris.  It also allows road-noise, tire noise, and underbody wind noise to travel upwards towards the cabin.  With our sound-dampening skid plates, your vehicle's motors and axles will be better protected while making it quieter in the passenger cabin.
ROAD NOISE REDUCTION:
Many have asked us how much quieter this will make the Model 3's.  We have done sound meter testing with and without the sound dampening skid plates and the difference varied based on road surface smoothness, wind direction, and other variables.  On average we measured a difference of 3 to 5 decibels.  Also, the location of the sound meter was key.  
It is also fair to note that Model 3 has all 5 of our other noise reduction products on it as well, so having an even quieter cabin made it easier to distinguish the difference with and without this product being installed.  Also, our Front Skid Plate was installed over the stock cloth to increase the insulation.
SPECIFICATIONS:
Material:  1/8" Aluminum - Powder Coated
Insulation:  1/8" Urethane Sponge Foam
Weight:  9 Pounds for Front and 10 Pounds for rear
               Stock Model 3 OEM fabric weighs 3 to 4 pounds
DEMO & INSTALLATION:
Installation
Installation takes 15 to 30 minutes. You will need at least 2 jacks to self-install this, but a full lift is best. If you know of a local tire shop, they will be able to install this very quickly as many local tire shops install our other items like caliper covers.

Our installation videos provide the necessary information to correctly install our products. Therefore, we strongly recommend that you watch the installation video/s both before ordering and before installing our products.
Shipping information: Large
If you are in Southern California, and want to pickup your order, we are located at 23201 Antonio Parkway, Rancho Santa Margarita CA 92688, please select "Pickup" at checkout.
Variable Shipping Cost Note: When purchasing multiple oversize products, shipping cost will be calculated for each oversized product individually.
NOTE* To see if your order qualifies for lower cost shipping method, please email us with your shipping address prior to purchasing.
INTERNATIONAL ORDERS: International Customers are responsible for all import fees, duties, VAT, GST, TAX, handling fees, and all other import costs in their country. The shipping fees RPM collects only covers shipping & handling.
INTERNATIONAL ORDERS
We ship worldwide, and International Customers are responsible for all import fees, duties, VAT, GST, TAX, handling fees, and all other import costs in their respective country.  The shipping fees RPM collects only cover shipping & handling.