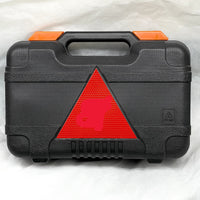 Flat Tire Repair Kit - Comes with Tool Kit & Compressor
List price:
$86.25
Sale

• Save
Installation difficulty: Hard 3/5
Description
TESLA's do not have spare tires, and do not have run flat tires.  Having a flat tire is a real problem.  Towing your TESLA in for service can take time waiting for a tow truck, and you have to sit patiently on the side of a road or in a parking lot if you have low tire pressure.  Also TESLA towing is limited depending how far you have to be towed. We paid over $200 once to be towed from Indiana to Chicago for a simple rim leak.
Driving on a rim with low pressure can cause damage to your wheel and that can cost hundreds of dollars, so what can you do?
With our kit you can inflate a low pressure tire with the included original FIX-A-FLAT or TITESEAL Fix a flat inflation can, but you also can inflate your tire with the included air compressor and you also can actually plug your tire's leak if you have a screw or nail stuck in it.  This kit can solve both potential problems!
It may just be peace of mind to have this kit stored in your sub trunk or frunk, but knowing it is there makes all the difference when traveling.

Once you plug the hole in your tire you can travel at full speed and when you get to your destination you can have your tire patched up instead of waiting on a tow truck.  
DEMO:
TITESEAL CAP INSERTION:
Installation
Our installation videos provide the necessary information to correctly install our products. Therefore, we strongly recommend that you watch the installation video/s both before ordering and before installing our products.
INTERNATIONAL ORDERS
We ship worldwide, and International Customers are responsible for all import fees, duties, VAT, GST, TAX, handling fees, and all other import costs in their respective country.  The shipping fees RPM collects only cover shipping & handling.