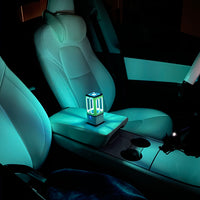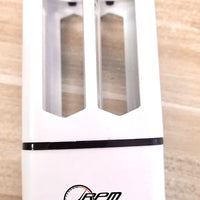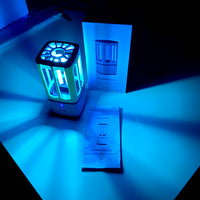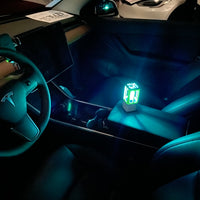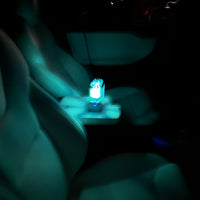 UV Sanitizing Rechargeable Lamp
List price:
$48.75
Sale

• Save
Installation difficulty: Easy 1/5
Description
This works great in your TESLA or in any smaller size room.  This UV-C Sanitizing Lamp eliminates 99.9% of bacteria in your TESLA. This compact and portable LED lamp is effective for wherever it is needed.  It has its own rechargeable Lithium Ion battery that can be used 10 times before needing recharging.
To use, you just hold down the power button until the blue LED light starts to blink. This has started the timer, and you have 29 seconds to get out of the room or your TESLA. The UV sterilization begins and once the blue light is a solid color and then lamp will turn off after 30 minutes. You can use this 9 more times before it will need recharging. It takes 120 minutes to fully charge from empty, and the LED turns red during this process and back to green when charged all the way.
Compact and Portable: The UV-C light is effective for sterilization, and it can be used wherever it needs to be disinfected.

Just place it inside your TESLA on your armrest, turn on the countdown timer and leave it to run its 30 minute cycle.

USB Rechargeable Design: Built-in 1,000 maH battery for repetitive use. On a full charge the battery can

Suitable Occasions: The lamp is suitable for kitchen, bathroom, storage room, wardrobe, shoe cabinet and other places.

Works in just 30 minutes

Charges up by any USB outlet

The UV Bulbs will last for more than 8,000 hours.
Specifications:  
Rated Power:  3.8W Battery: 1,000maH Rated Voltage: DC 3.7v
Dimensions:   56mm x 56mm x 125mm
UV Tube Lift Span: 8,000 Hours
Use caution with all UV lights.  Turn and leave the area ASAP.  UV goggles must be work if looking at the light or at the surface it's exposing.  Unit has starting timer and exposure time is set up by default.
DEMO:
Installation
Our installation videos provide the necessary information to correctly install our products. Therefore, we strongly recommend that you watch the installation video/s both before ordering and before installing our products.
INTERNATIONAL ORDERS
We ship worldwide, and International Customers are responsible for all import fees, duties, VAT, GST, TAX, handling fees, and all other import costs in their respective country.  The shipping fees RPM collects only cover shipping & handling.