Chrome Delete
Southern California Chrome Delete Installed Packages
Chrome Delete & Package Pricing
WHAT & WHERE WE DO IT:
Our 3M Chrome Delete Package prices include material & labor. We do a full chrome delete and it includes covering your chrome window trim and side view mirrors in your choice of 3M vinyl Glossy Black, Satin Black, or Matte Black.
​
For the other 8 -15 chrome areas we can cover these in the same matching black color, or you can choose carbon fiber, or red, or any other accents to match your paint or brake calipers. Our installation takes 3-5 hours. 3M's warranty is 3 to 5 years.
---
CHROME DELETED ITEMS INCLUDE: 
Vinyl Wrapping of all Window Trim, Side View Mirrors, Headlight Eyelids on Model S, Nosecone or Front Inlay, Front and Rear TESLA -T Logos, Under Headlight Inlays, Under Door Trim, Full Door Handles Wraps, Tail Light Side Wraps on Model S, Rear Chrome Applique, TESLA Applique' letters, Turn Signal Indicators, Wheel Center Caps, Wheel Inner T's, and Model X, S, or 3 Black emblems.
​
Premium Chrome Delete details are below which include removal and painting of emblems and or rear appliques's. Can be done in paint or in Plasti Dip.  
INSTALLED PACKAGES
Package Install Video
INSTALLED SERVICES PRICES
Chrome Delete: from $ 729
Ceramic Tint:       from $ 470
Caliper Wrap:     from: $ 470
Powder Wheels: from: $649
3M Clear Bra:       from $995
Call Mark for specific pricing and combo discounts.
          Call 949-521-4383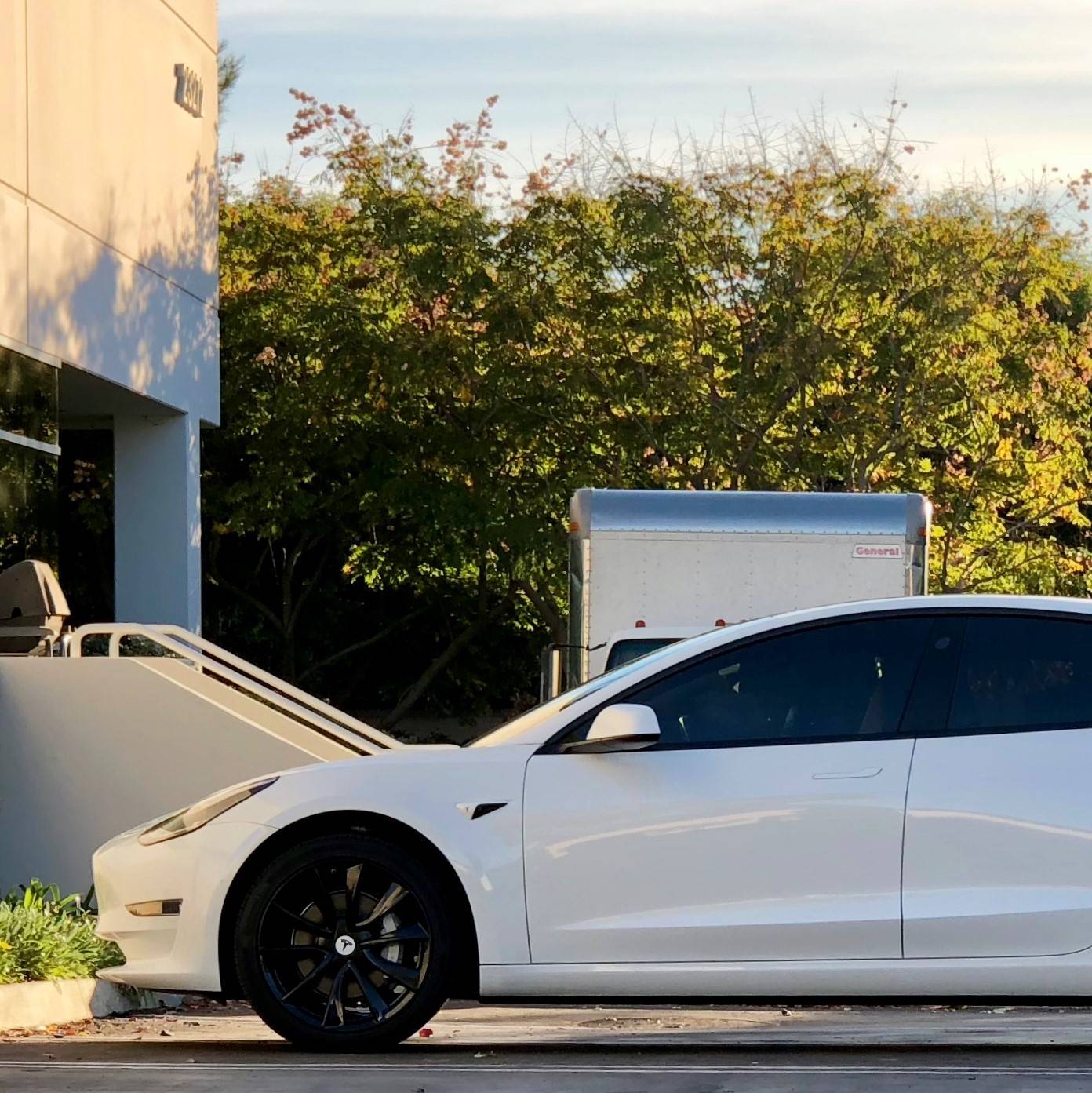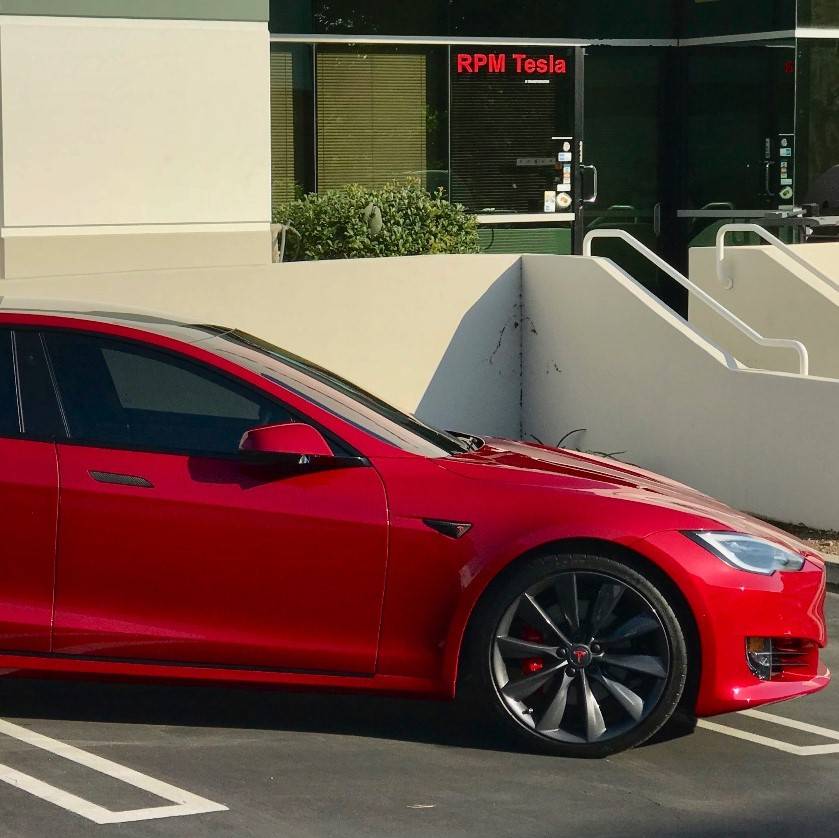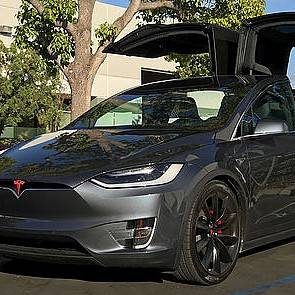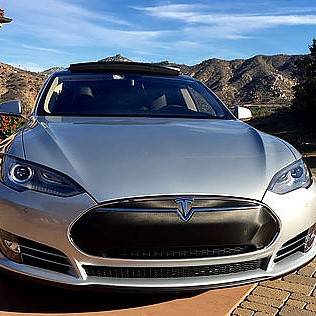 ---
Extra Optional Custom Choices:
Premium Chrome Delete, Painted T & Tailgate Applique       $ 100
Model S Rear Diffuser Wrapped in 3M Carbon Fiber             $ 200
Model X Rear Spoiler Wrapped in 3M Carbon Fiber                 $ 200
Model S Rocker Panels Wraped in 3M Carbon Fiber             $ 200
Tinted Tailights - Wraped in Dark Tailight Vinyl Film           $ 180
Caliper Vinyl Wrapping - Red, Yellow, or custom color         $ 650
​
Caliper Painted - Model 3 Red, Yellow,                                 $ 699
Note: These items cannot be purchased on our website,
and only can by put on by our installer.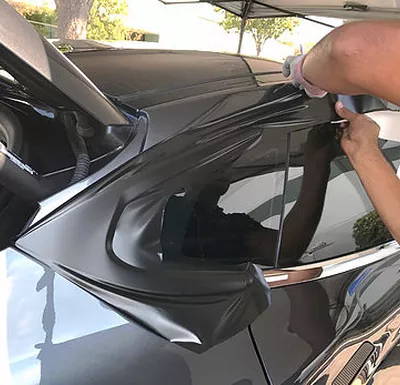 Choosing your Chrome Delete Black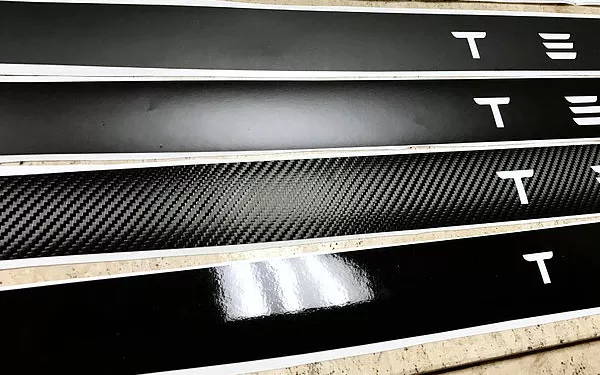 These tailgate applique wraps illustrate the differences in our 4 black 3m 1080 vinyl wraps.  
From the top is; Matte Black, followed by Satin Black, then Carbon Fiber, and Glossy Black.
Also, the cut out raised up letters on Tesla rear applique' can be ordered in the same black material to black out the TESLA letters or a color can be added to match or contrast you paint color.
The picture is a skin. Not a decal.
Chrome Delete Videos & Pictures