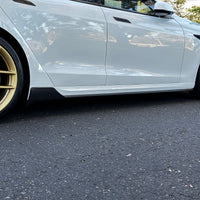 2021+ | Model S Viento Side Skirts - Real Molded Carbon Fiber
List price:
$1,061.25
Sale

• Save
Installation difficulty: Moderate 2/5
Description
ESTIMATED LEAD TIME: Matte is in stock. Glossy is 3-4 weeks for new orders.
-
Introducing our latest additions for the 2021+ Model S – the Viento Carbon Fiber Side Skirt. Crafted from authentic molded carbon fiber, these side skirts bring a modern touch to your vehicle's appearance.
The Model S Viento Aero Front Lip Spoiler seamlessly integrates carbon fiber aesthetics into your car's side profile, not only augmenting its visual appeal but also making a functional impact. Designed to have a minimal effect on aerodynamics while boosting downforce, these perfectly complement the overall look and performance of your Model S. In conjunction with our rear diffuser, front Lip, and canards, this dynamic combination creates a beautiful aero kit that enhances stability even during high-speed driving.
Weighing in at less than 5 pounds each, the side skirts strike an ideal balance between lightweight design and structural integrity. Constructed using an intricate dry-molded 2x2 carbon fiber weave, this dry molding technique not only enhances the front lip's durability but also plays a pivotal role in increasing downforce and impact resistance.
Installation Process:
Installing the Viento side skirts is a straightforward process involving the use of screws/rivets that penetrate the area beneath your plastic OEM rocker (located in an inconspicuous spot, invisible from a standing viewpoint). Additionally, there are designated screw/rivet holes predrilled to puncture the plastic undertray beneath the front bumper(We do offer the option it installs the side skirts with a bolt and nut on the inside of the fender liner). The remainder of the side skirts are affixed using 3M double-sided tape (already applied to the front lip for ease of installation).
Please watch our comprehensive Installation Video below to guide you through the process.
Compatibility
Fits 2021 and newer refreshed Model S's Only.
Warranty
Carbon Pattern Warranty: Real Molded Carbon Fiber is hand laid and is not Prepreg Wet Molded, so it may show imperfections in pattern direction. Also, they are made from a two piece mold where the top and the bottom of the spoilers are joined together. As a result spoilers may show a visible seam where the two pieces of mold fuse together. These variations are normal and are not a manufacturer's defect. Please refer to our Return Policy if you would like to return them.

UV Warranty: Our Real Molded Carbon Fiber is coated with 3 coats of UV Protection. Over time without proper care from waxing or applying a nano-ceramic coating, this protection can wear off. The warranty is limited to 1 year. Slight yellowing is normal for carbon fiber when parked outside in direct sunlight and is not covered under our warranty. To extend the life of our Carbon Fiber, we recommend using "303 Protectant". Ceramic coatings will assist with UV protection and we recommend Ceramic Pro.

NOTE: These are considered USED as soon as the double sided adhesive liner is removed. Used items are NOT RETURNABLE so please be sure you're happy with the way it looks and place it on your TESLA before removing the adhesive liner.
Installation
Installation Video
Our installation videos provide the necessary information to correctly install our products. Therefore, we strongly recommend that you watch the installation video/s both before ordering and before installing our products.
Shipping information: Large
If you are in Southern California, and want to pickup your order, we are located at 23201 Antonio Parkway, Rancho Santa Margarita CA 92688, please select "Pickup" at checkout.
Variable Shipping Cost Note: When purchasing multiple oversize products, shipping cost will be calculated for each oversized product individually.
NOTE* To see if your order qualifies for lower cost shipping method, please email us with your shipping address prior to purchasing.
INTERNATIONAL ORDERS: International Customers are responsible for all import fees, duties, VAT, GST, TAX, handling fees, and all other import costs in their country. The shipping fees RPM collects only covers shipping & handling.
INTERNATIONAL ORDERS
We ship worldwide, and International Customers are responsible for all import fees, duties, VAT, GST, TAX, handling fees, and all other import costs in their respective country.  The shipping fees RPM collects only cover shipping & handling.