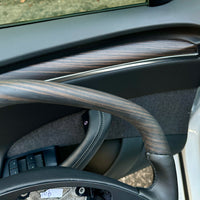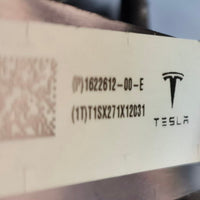 2021+ | Model S & X Yoke Round Sport Steering Wheel - Full Leather & Heated
List price:
$2,375.00
Sale

• Save
Sales Price:
$1300 - $2405
Installation difficulty: Moderate 2/5
Description
LEAD TIME:  is 2 to 3 weeks for new orders.  PLEASE EMAIL/LIVE CHAT US FOR THE RETURN LABEL FOR YOUR CORE DEPOSIT REFUND IF YOU ARE RETURNING YOURS.
Black Soft Napa Leather Round Sport Style Steering Wheel For S & X Plaid & Long Range Owner. Optional Heated side handles.
Many 2022 S & X owners do not prefer the U Shaped YOKE steering wheel, and we are offering this as a great solution.  Our YOKE Round Sport Steering Wheel is the best you can buy.  Our upgraded Rounded Sport Steering Wheel features a welded steel top, along with the best gauge cluster visibility, and the highest quality leather and carbon fiber in the world.
NOTE:  This is not an aftermarket steering wheel, but a brand new 2022 YOKE Tesla OEM Steering wheel. We have been modifying Tesla Steering wheels for 8 years now.  To date, we have upgraded more than 1,000 TESLA steering wheels with no issues.  We are experts at upgrading TESLA wheels.  So again, these are not replica steering wheels, they are not from China and they are not built on fake copied steering wheel cores.  Many companies are doing this for Model S and X as well as the Yoke style for Model 3's and Y's.   
We assure you we are not making an aftermarket wheel.  At RPM, we only modify the perimeter of a stock TESLA steering wheel.  There are no warranties issues, and when our wheel arrives, you simply pop out your stock wheel and insert ours along with your original air bag.
No issues, and ours self-install in less than 5 minutes. We have purchase brand new wheels from Tesla, and our customers purchase new Yoke steering wheels from Tesla, and we update their original wheels.  
PRICING NOTES:  With our current 20% Off Sale, your final cost at check out will be as low as $1,268.  Shipping is free in the contiguous U.S.  Yes, only $1,499 as long as you do not select the heated option and as long as you send back your original wheel to us.  If you keep your stock steering wheel the pricing will be $600 more, and an additional $250 for heated.
Just place this item into your shopping cart to see the final price you will pay today, and remember, there will be a $600 deposit refunded to you once we get your stock wheel back. We even pay the returned shipping back to us when you send back your original wheel, if you are in the contiguous U.S. If your steering wheel has any wear and tear or damage to the vinyl handles it is OK as we will be removing the entire plastic handle area
WARRANTY:  There are no warranty issues with our updated TESLA original steering wheels, and in fact, many TESLA service centers have installed these for our customers in Australia and in other U.S. cities.  These are real OEM TESLA wheels and only the outer rim has been updated.
CONFIRMING YOUR STEERING WHEEL SWITCH REVISION LETTER:  
As mentioned above, we have made over 1,000 converted TESLA steering wheels since 2015.  Since the new Model S came out in June of 2021, TESLA has updated the steering wheel switches revisions 3 times so far.  
This firmware update is for the steering wheel buttons or imbedded switches.  TESLA started selling the Model S with a version D, and then E.  When you order we need to know which versions your S or X has to make sure it will work when you plug it in.
The last photo on the left is a video, please watch it to understand how you can check our version better.  Please watch the video to learn how to peek inside your airbag area to see the version label like the 2nd from the last photo.  
HOW DO WE UPDATE THE STEERING WHEELS? 
Here is a brief summary of the transformation to create this round sport steering wheel.  First, we removed the vinyl cover and the polyurethane hard rubber under it.  All that remains is a U Shaped steel core.  We then weld a steel reinforced top portion to the lower U Shape.  We remove the switches and all electronics, and then we add a new polyurethane rubber coating around the steel core ring.  We install the soft nappa leather around the core after inserting the heated function back in the side. 
The switches are reinstalled into the wheel and it is finished.  We also have made hundreds of heated steering wheels for Model 3, Y, S & X.  Again, only the leather handles will be heated.   
Our demo video link is below to learn more:
INSTALLATION:  Please watch our installation video below.  
It is very easy and only requires the releasing of your original airbag with an allen wrench, unthreading the center bolt, and unclipping 2 clips and reinstalling the new wheel.  With your purchase of our wheel, we will ship you an allen wrench and a socket to remove and reinstall the wheel bolt.    
Compatibility
2021 + Refreshed Model S Plaid and LR & 2022 + Refreshed Model X Plaid and LR.

Warranty
WARRANTY: There are no warranty issues with our updated TESLA original steering wheels, and in fact, many TESLA service centers have installed these for our customers in Australia and in other U.S. cities. These are real OEM TESLA wheels and only the outer rim has been updated.
Installation
Installation Video
Our installation videos provide the necessary information to correctly install our products. Therefore, we strongly recommend that you watch the installation video/s both before ordering and before installing our products.
INTERNATIONAL ORDERS
We ship worldwide, and International Customers are responsible for all import fees, duties, VAT, GST, TAX, handling fees, and all other import costs in their respective country.  The shipping fees RPM collects only cover shipping & handling.