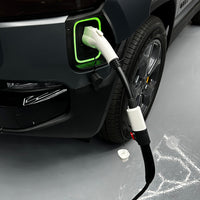 Non TESLA Charging Cable Adapter (Tesla to J1772 Standard) Long Handle (60 Amp Max)
List price:
$173.75
Sale

• Save
Description
This item DOES not assist in charging TESLAs, but it will allow you to charge your Non Tesla EV from a TESLA home or destination charger.  
This is a great accessory for TESLA customers who own another type of EV.  Perfect if you already have a TESLA home wall charger or 220 Volt plug, and you want to charge your Non Tesla like a Rivian.  You do not need to buy a Rivian Wall charger adapter, or any other EV home charger.  Just use your Tesla cord with this adapter.
Introducing the RPM Tesla Charging Cable Adapter.  This converts your Tesla home or destination chargers to the American Standard J1772 Charging Adapter (250V AC - 60A), a solution designed to convert your Tesla charger for use with regular electric vehicles (EVs).
With its seamless compatibility and exceptional performance, this adapter gives you the ability to convert your Tesla charger to a non-tesla (j1772  charging Plug).
 Key Features:
Tesla to American Standard Conversion: Converts your Tesla charger, allowing you to charge regular EVs (With a  J

1772 Plug)

.
Versatile Charging Compatibility: Compatible with a wide range of electric vehicles, enabling you to charge different EV models.
Robust Power Delivery: Capable of handling up to 250 volts AC and 60 amps of current, ensuring fast and efficient charging.
High-Quality Construction: Built with durability in mind, the adapter is made to withstand regular use and provide long-lasting performance.
Portable and Travel-Friendly: Compact and lightweight design makes it convenient to carry and use wherever you go.
You no longer have to be limited by proprietary charging systems. Experience the freedom to charge regular EVs using your existing Tesla charger. Upgrade your charging capabilities and enjoy the convenience and flexibility this adapter brings to your electric vehicle charging routine.
Don't let charging limitations hold you back—empower yourself with the RPM Tesla Tesla to American Standard J1772 Charging Adapter and charge your way to a greener future.
Compatibility
This item will not allow you to charge your TESLA, but will allow you to charge your Non-Tesla EV with a home or destination charger.
Installation
Our installation videos provide the necessary information to correctly install our products. Therefore, we strongly recommend that you watch the installation video/s both before ordering and before installing our products.
INTERNATIONAL ORDERS
We ship worldwide, and International Customers are responsible for all import fees, duties, VAT, GST, TAX, handling fees, and all other import costs in their respective country.  The shipping fees RPM collects only cover shipping & handling.