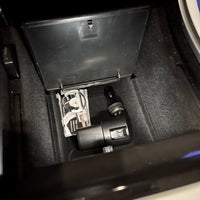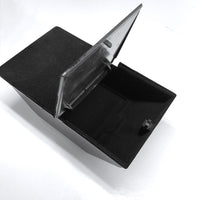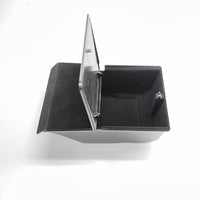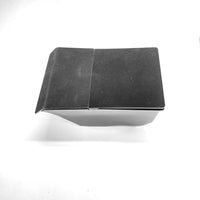 Model 3 & Y Center Console Hidden Storage Box & Shelf - (Gen. 1 & 2)
List price:
$48.75
Sale

• Save
Installation difficulty: Easy 1/5
Description
This brand new product is perfect for hiding objects inside your center console's lower area.  This hidden storage box works as a secure hidden secret storage and as a shelf inside your center console.  You can keep many items in this secure storage box and only you will know how to open it.
In our video we demonstrate how to insert it an how to open and close it.  This is perfect for storing your registration documents or other valuables.  It's completely invisible with the matching flocking coating on the top layer.  
You will have to choose which version you will need to fit in your Model 3 or Y.
Model 3 & Y Center Console Version Identifying:
TESLA Identifies their center consoles as version 1.0 and 2.0, and as of April 2021, both Model 3 & Y's are now being built with 2.0.
Version 1.0 was used in all Model 3's from 2017 thru 2020, and Model Y's from March 2020 thru early 2021.
To identify your center console version, please look and see if the centerpiece flips open, that is 1.0.  If your cell phone dock has a flip lid to open and close you have 1.0.
If you you have a sliding center piece you have 2.0. If you can always see your cell phone wireless charging dock you have 2.0.
To help identify your center console, please watch our demo & installation video.
DEMO & INSTALLATION:
Compatibility
Gen. 1 fits M/3 2017-2020 & M/Y 2020
Gen. 2 fits Model 3 & Y 2021+
Installation
Our installation videos provide the necessary information to correctly install our products. Therefore, we strongly recommend that you watch the installation video/s both before ordering and before installing our products.
INTERNATIONAL ORDERS
We ship worldwide, and International Customers are responsible for all import fees, duties, VAT, GST, TAX, handling fees, and all other import costs in their respective country.  The shipping fees RPM collects only cover shipping & handling.