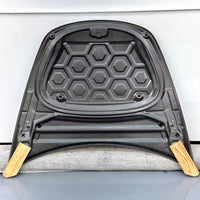 Model 3 Viento Robot Hood - Dual Layer with Xpel Clear Bra- Real Molded Carbon Fiber
List price:
$2,123.75
Sale

• Save
Installation difficulty: Hard 3/5
Description
ESTIMATED LEAD TIME:
 Shipping in Contiguous U. S. Only. These are in stock now! 
Prep time may take a few business days depending how many open orders there are. Please email or live chat our customer service team and they can give you an ETA on when your order will ship.
A 

Made from 100% Real Carbon Fiber, dual layer, no fiberglass, full carbon bottom layer.
In our detailed design, we selected to make the hood look sporty and aggressive looking so it really pops.  It comes with a centered fin at the top of the hood, and shark teeth on both sides.  We love this style and are sure you will too.  If you love our Viento Aero pieces you will find his this hood really compliments the vertical flanges on the Viento Side Skirts and and front lip.

The hood is made entirely from real molded carbon fiber and use a wet molding technology.  There is no fiberglass or plastic; there is only 2 full sides of pure carbon fiber.  The total weight is only 14 pounds reducing the weight of your hood by 6 pounds.

The carbon is a 2x2 twill weave pattern and is also made with UV protection to ensure they will not discolor over time.  If you want to protect your hood from getting rock chips, we suggest you consider Option 2 and 3 as listed above.
 All of our Carbon Fiber Hoods now include preinstalled Xpel Ultimate Pro Paint protection film.  We install the invisible clear or Stealth Matte film over the top of the hoods and we roll the edges all the way around and under to the backside.
This Hood can by ordered in 2 ways, both include Xpel Clear Bra : 
1.  Glossy Carbon Fiber - With Invisible Xpel Ultimate Pro Clear Bra installed
2.  Matte Carbon Fiber - Glossy Hood with Xpel Stealth Matte PPF Install
SHIPPING: 
Shipping is $199 in the Contiguous U.S., and $150 in California.
Demonstration Video:
Installation:  
Installing this hood is very easy, you simply remove the 4 hinge bolts and use the same bolts to connect this hood.  Then remove the 2 hood latch bolts and use your stock latch on this hood.  Installs in 10 minutes and alignment is easy if you use the stock nut locations for the hinge bolts. 
Instalaltion Video:  Skip forward to 7 Minutes for Installation 
SHIPPING: 
We ship these worldwide now, but it is expensive because it must ship by a freight company.  Shipping prices are listed below.
Compatibility
Not compatible with Electronic Power Opening Front Trunk (Frunk) & NON OEM struts
Warranty
Carbon Pattern Warranty: Real Molded Carbon Fiber is hand laid and is not Prepreg Wet Molded, so it may show imperfections in pattern direction. These variations are normal and are not a manufacturer's defect. Please refer to our Return Policy if you would like to return them.

UV Warranty: Our Real Molded Carbon Fiber is coated with 3 coats of UV Protection. Over time without proper care from waxing or applying a nano-ceramic coating, this protection can wear off. The warranty is limited to 1 year. Slight yellowing is normal for carbon fiber when parked outside in direct sunlight and is not covered under our warranty. To extend the life of our Carbon Fiber, we recommend using "303 Protectant". Ceramic coatings will assist with UV protection and we recommend Ceramic Pro.
Installation
The hood installs very easily. The Viento Hood comes with a total of 2 screws and 8 bolts. The bolts are removed and then used on our hood to attach it to the struts and the brackets. Also, you will need to transfer your existing latch hook.
Our installation videos provide the necessary information to correctly install our products. Therefore, we strongly recommend that you watch the installation video/s both before ordering and before installing our products.
Shipping information: Oversized Shipping
If you are in Southern California, and want to pickup your order, we are located at 23201 Antonio Parkway, Rancho Santa Margarita CA 92688, please select "Pickup" at checkout.
Variable Shipping Cost Note: When purchasing multiple oversize products, shipping cost will be calculated for each oversized product individually.
NOTE* To see if your order qualifies for lower cost shipping method, please email us with your shipping address prior to purchasing.
INTERNATIONAL ORDERS: International Customers are responsible for all import fees, duties, VAT, GST, TAX, handling fees, and all other import costs in their country. The shipping fees RPM collects only covers shipping & handling.
INTERNATIONAL ORDERS
We ship worldwide, and International Customers are responsible for all import fees, duties, VAT, GST, TAX, handling fees, and all other import costs in their respective country.  The shipping fees RPM collects only cover shipping & handling.