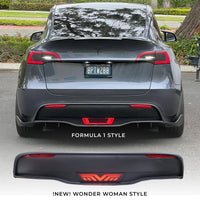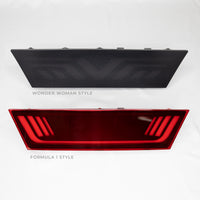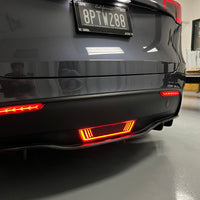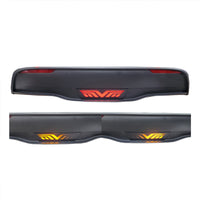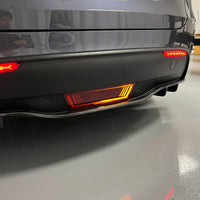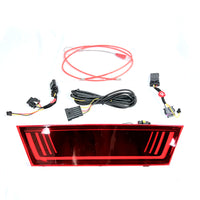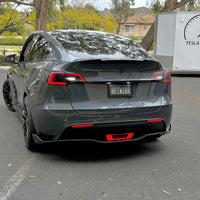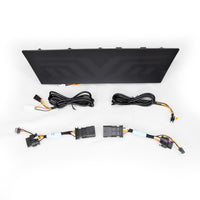 Model Y - LED Brake & Turn Signal Light - Formula 1 & Wonder Woman Style
List price:
$161.25
Sale

• Save
Installation difficulty: Moderate 2/5
Description
We now offer the Model Y LED Break & Turn Signal Light Hitch Replacement in 2 variations:
1. Wonder Woman Style ( NEW!)
2. Formula 1 Style
These bright LED Hitch Access Panel Brake & Turn Signal lights will drastically Improve your visibility in your Model Y.
They are simple to install. The LED light fits directly into your Model Y's Hitch Access Panel and requires no drilling, no screwing, no wire splicing, and no bumper disassembly.  All Plug and Play !!!  No warranty issues and installs in 30 minutes.
We strongly believe that improving your Tesla's visibility means a lower chance of being rear ended while it also makes your TESLA look the coolest.  
     5 Top Features Include:
1.  Full Red Brake Light Indication
2. Right & Left Amber Turn Signal Blinking
3. Parked Red Pulsating Mode (Not included for the Wonder Woman Style)
4. Hazard Light Full Amber Blinking
5. Animation Start up Sequence
The last photo is a demo video and we our installation video is below.
Installation
Installation Video
Our installation videos provide the necessary information to correctly install our products. Therefore, we strongly recommend that you watch the installation video/s both before ordering and before installing our products.
INTERNATIONAL ORDERS
We ship worldwide, and International Customers are responsible for all import fees, duties, VAT, GST, TAX, handling fees, and all other import costs in their respective country.  The shipping fees RPM collects only cover shipping & handling.