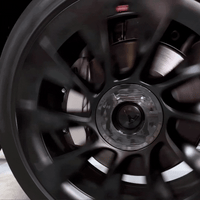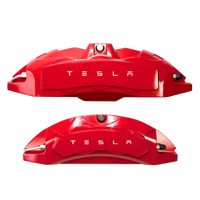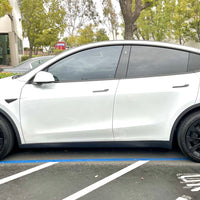 Model Y Performance Caliper Covers (Gen. 3) - Variety*
List price:
$286.25
Sale

• Save
Installation difficulty: Moderate 2/5
Description
This is our newest Generation 3 Performance Caliper Covers. These are available in Red, White, and Yellow.
Our new Gen. 3 Performance Caliper Covers are contoured more like real TESLA OEM performance calipers and installation is easier than ever.  They slide right over your stock calipers and tighten up very easily.  If you are tired of looking at your small grey front caliper and the undersized horseshoe-shaped rear calipers, look at how nice these brighten up your wheels. See our before and after rear caliper photo.
The facade front covers include bolts, a hydraulic line, and a rubber bleeding cap. They look great and are even easier to install, just slide over and tighten one nut. Please watch our demo & installation video. 
Our Aluminum Caliper Covers are very simple to install, not permanent, and have no warranty-compromising risk.  Made specifically to fit over the Tesla Model Y stock non-performance brake calipers, these Caliper Covers will give your Model Y a RED Caliper Painted look. These fit on 19-inch and 20" OEM Tesla wheels.
Caliper Covers not only look awesome but they reduce brake dust accumulation in your wheels. These are made of lightweight 6061-T6 Aerospace Aluminum that covers the caliper for a perfect fit.
These caliper covers are a great lower cost non-permanent solution to covering up the plain silver calipers on your Model Y. If you're leasing, you can leave them on when your lease is over, or just unscrew one nut and remove them.  
Optional Vinyl Letters:  We will install the TESLA letters for you!  Nothing for you to install but the caliper covers.  
Included:  You will receive 4 Caliper Covers.  You also can add a full set or rubber jack point adapters for only $29 extra.  These come in their own carrying case that zips up. Here is a link for details on the set of 4.  A set of 4 is great to have if you rotate your own tires.
Installation:  Watch our DIY video, the video is for Model 3, but they install the same way.  If you can remove your wheel and torque your lug nuts to 120-inch pounds, you can do this installation yourself.
Installation time:  Average installation time is about 10 minutes per wheel.
Tools required:  Safety glasses, floor jack, impact wrench for lug tightening.
DEMO & INSTALLATION: 
Compatibility
Fits over All Non Performance Model Y Calipers.
Installation
DEMO & INSTALLATION:
Our installation videos provide the necessary information to correctly install our products. Therefore, we strongly recommend that you watch the installation video/s both before ordering and before installing our products.
INTERNATIONAL ORDERS
We ship worldwide, and International Customers are responsible for all import fees, duties, VAT, GST, TAX, handling fees, and all other import costs in their respective country.  The shipping fees RPM collects only cover shipping & handling.