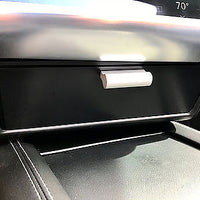 Model S & X Cubby Drawer Satin Black
List price:
$49.00
Sale

• Save
Installation difficulty: Moderate 2/5
Description
This is the basic drawer with no front wrap only semi gloss as it come out of our injection mold.  For Optional Front Colored Wraps in Vinyl and Leather or Alcantara see our Cubby Page.
All of our drawers are Improved and the interior is fully lined velvet.  This improved lining stops objects from sliding around inside the drawer while adding a beautiful elegant look to the drawer interior.  We even wrap the back top and bottom for a smooth slide when it is open and closed.
Be sure to select the Inner T Logo vinyl decal color for the drawer interior color of your choice.  Or pick none to leave it plain.  This drawer is awesome and rock solid.  No silly magnets, just a great fit.  The rubber bumpers prevent you from opening it to much and it will not fly open even with Ludicrous mode engaged.
This drawer is very sturdy and rock solid, made from injection molding a single solid piece.  The handle matches the display bezel perfectly. 
The LED light option is only $10 extra when you buy a cubby drawer, or $15 if you buy is separately. Simple to remove or clean as well.  
These are always in stock, same day shipping for satin black.  Allow 1-3 days for all other front material wraps.
DEMO & INSTALLATION:
Compatibility
Model S and Model X - Fits all years 2012- Present. LEFT HAND DRIVE ONLY
Installation
Our installation videos provide the necessary information to correctly install our products. Therefore, we strongly recommend that you watch the installation video/s both before ordering and before installing our products.
INTERNATIONAL ORDERS
We ship worldwide, and International Customers are responsible for all import fees, duties, VAT, GST, TAX, handling fees, and all other import costs in their respective country.  The shipping fees RPM collects only cover shipping & handling.