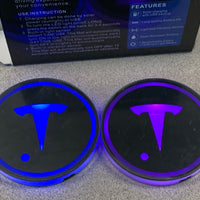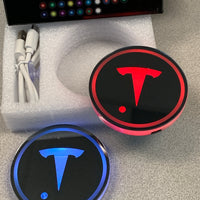 Cupholder LED Light Pucks (1 Pair)
List price:
$24.99
Sale

• Save
Installation difficulty: Easy 1/5
Description
You now have a choice between our new " T " light up style or the original solar rechargeable cell. Both have 7 colors to choose from including white.

The LED lights are great and lots of fun. First they only turn on at night and when you park your car they turn off whenever you're not driving because they require motion to stay on. During the day they stay off and actually recharge slightly from direct sunlight.
You turn them on from the single switch on the bottom and you have a choice of 7 colors to choose from, even white.
The color cell does provide a slow trickle charge, but you can always plug them into your USB ports to charge them up quickly with the cord that is included. Of course they are waterproof in case you spill on them. We also give you our standard lifetime warranty so no need to worry about limited 30 day warranties like on Amazon or Ebay.
Two ways charging with the Solar Cell version. You can just leave them on the dashboard in direct sunlight or plug it in the USB charger. The solar cell charging rate is very slow and the cell will only add a few Kw to the battery so we recommend using the fast charging USB cord. They will be fully charged and stay lit for weeks at a time.
Diameter: 6.5cm/ 2.6inch, universal for all kinds of vehicles that come with cup holder, good for long car rides at night, look fantastic in the cup holders
Easy to install, no tools or wiring needed. Made of high quality Acrylic and Energy-saving LED wick. They have the right amount of brightness, not eye blinding that'll distract the driver but just enough for decorative purposes.


DEMO & INSTALLATION:
Installation
Our installation videos provide the necessary information to correctly install our products. Therefore, we strongly recommend that you watch the installation video/s both before ordering and before installing our products.
INTERNATIONAL ORDERS
We ship worldwide, and International Customers are responsible for all import fees, duties, VAT, GST, TAX, handling fees, and all other import costs in their respective country.  The shipping fees RPM collects only cover shipping & handling.