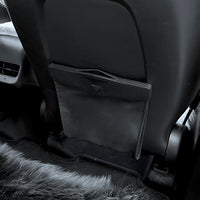 Model 3 & Y Backseat Storage Pouch & Trash Bin - with LED Light
List price:
$29.00
Sale

• Save
Description
Our new backseat storage pouch is perfect for kids storage or trash collection.
Ever had someone ride in the backseat and have so much trash they don't know what to do with it?
Well not anymore, now introducing the new backseat storage pouch and trash bin.  It includes a battery powered LED light and fitting all models with a backseat pouch.
This allows individuals to have a trash bin in arms reach, not taking the risk of spilling anything, making a mess or creating new stains. The LED light included makes it easier and convenient to throw away trash in the dark without missing the bin and dropping it on your brand new floor mats.
Very easy to install as it clips on to the back of the seat and very easy to remove and fold up. 
These are sold separately, so order 2 for both back seats.
Compatibility
Fits all Model 3's & Y's and older Model S's with seat back pockets built into the drivers and passengers front seats.
Installation
Our installation videos provide the necessary information to correctly install our products. Therefore, we strongly recommend that you watch the installation video/s both before ordering and before installing our products.
INTERNATIONAL ORDERS
We ship worldwide, and International Customers are responsible for all import fees, duties, VAT, GST, TAX, handling fees, and all other import costs in their respective country.  The shipping fees RPM collects only cover shipping & handling.