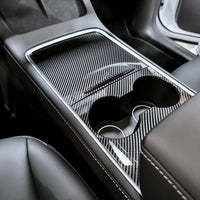 Model 3 & Y Center Console Overlays ABS Plastic (Gen. 2) - Variety*
List price:
$48.75
Sale

• Save
Installation difficulty: Easy 1/5
Description
These center console covers are not decals or stickers, but are made from injection molded ABS plastic.  We paint them in glossy pearl white, or hydro dip coat them with a carbon fiber printed film, and then we covered in a glossy shiny finish, or in a matte flat coating.

This 2 piece overlay will protect the grey painted surfaces of your cup holder and the sliding front piece.  They add a sporty carbon fiber look or a white paint matching look for interiors with the white seats and door panels. 
They fit so well between the silver rails of the center console side piece moldings.  They look original as the surface of the center console is raised up a by 1.5mm making the fitment flush all the way across.  All 3 finishes compliment our white and carbon fiber dashboard replacements and overlays. 
FINISH CHOICES:

We are selling these in 3 finishes.
Glossy White Pearl.  Paint matching for White Tesla owners.




Hydro Dipped Carbon Fiber look with a glossy, or a wet look.




Hydro Dipped Carbon Fiber look with a matte finish, or a dry look.

 



INSTALLATION:  These install in less than 10 minutes as we show in our video below.  We have 2 videos you must watch before attempting installation.  
FIRST:  is a tutorial that explains how to insure your center console will not have a clearance issue when opening and closing the sliding tray.  Some center consoles may have a burr of plastic that can scratch overlays like this, so please watch the video to understand if yours may have this issue, and also we show you how to correct the potential scraping problem.
SECOND is our full installation video, originally made for our open pore wood, but installation is exactly the same.  PLEASE WATCH BOTH BEFORE ORDERING, and make sure you sliding drawer has clearance as we explain in our first video 
VIDEO #1:  How to check for a potential clearance issue, and how to remove the scraping burr. Please watch this:

FULL INSTALLATION:
Compatibility
This is a Gen. 2 product and is only 2 pieces, that fit Model 3's & Y's made after October 2020. Your Tesla has to have the open charging port and only 2 pieces in grey painted plastic.
Warranty
Carbon Pattern Warranty: All of our Hydro Printed products use a process called Hydro Dipping. This Water Transfer Process is also susceptible to Pattern Variations. These variations are normal and are not a manufacturer's defect.

UV Warranty: Our hydro carbon fiber coated and painted products are coated with a UV protection layer. However, this layer can be worn off if left in direct sunlight or from car washes and other forms of abrasion. The warranty for this form of wear and tear is 6 months. Over time the paint may fade or lose its shine. To extend the life of these products, we recommend using "303 Protectant". This will enhance the UV protection. Ceramic coatings also assist with UV protection. We recommend Ceramic Pro and 3M Ceramic.

NOTE: These are considered USED as soon as the double sided adhesive liner is removed. Used items are NOT RETURNABLE so please be sure you're happy with the way it looks and place it on your TESLA before removing the adhesive liner.
Installation
Installation Video:
Model 3 & Y Center Console Sliding Drawer Repair - No More Scratching your sliding drawer overlay.
Our installation videos provide the necessary information to correctly install our products. Therefore, we strongly recommend that you watch the installation video/s both before ordering and before installing our products.
INTERNATIONAL ORDERS
We ship worldwide, and International Customers are responsible for all import fees, duties, VAT, GST, TAX, handling fees, and all other import costs in their respective country.  The shipping fees RPM collects only cover shipping & handling.