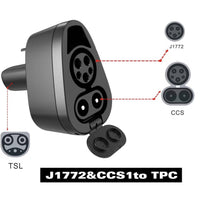 CCS1 & J1772 Combo Adapter For TESLA - Charge Your Tesla On Other Networks
List price:
$187.50
Sale

• Save
Description
This is the best quality and most affordable CCS adapter for your Tesla.  This new version works on CCS1 & J1772 Chargers.
This is for use in North America. With this adapter, you will be able to charge your CCS-enabled Tesla vehicle at the numerous CCS fast chargers in the US and Canada. Compatible with nearly all CCS Combo-1 fast chargers.  This includes Electrify American and other networks.
Specifications:  
Max Charging : 250 kW.            Voltage : 500V DC
Operating Temperature : -22°F to + 122°F (-30°C to +50°C)
Storage Temperature: -40°F to + 185°F (-40°C to +85°C)

NOTE : Not all Tesla vehicles are equipped with CCS charging capability.
Compatibility:  Not compatible with chargers in Europe - for North America and S. Korea use only.
This adapter is only compatible with all Tesla vehicles that have CCS capability enabled. To check whether it will work with your vehicle, on your vehicle's touchscreen please tap on "software" and then "additional vehicle information". If you see "CCS adapter support: enabled" then you know our adapter will work with your vehicle.
Your Tesla vehicle must support CCS charging. It does not work for Tesla vehicles before Oct. 2021 that come without CCS enabled. Not Compatible with non-Tesla electric vehicles.
Please confirm if your Tesla supports CCS before purchasing.
Compatibility
This item will not allow you to charge your TESLA, but will allow you to charge your Non-Tesla EV with a home or destination charger.
Installation
Our installation videos provide the necessary information to correctly install our products. Therefore, we strongly recommend that you watch the installation video/s both before ordering and before installing our products.
INTERNATIONAL ORDERS
We ship worldwide, and International Customers are responsible for all import fees, duties, VAT, GST, TAX, handling fees, and all other import costs in their respective country.  The shipping fees RPM collects only cover shipping & handling.