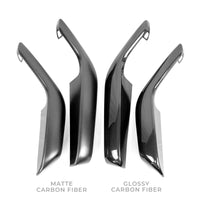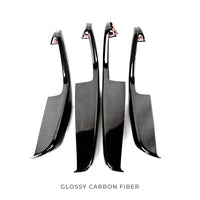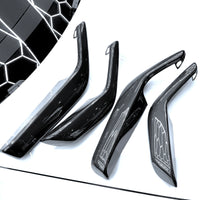 Model Y Front & Rear Door Armrest Overlays (4 Pieces) - Real Dry Molded Carbon Fiber
List price:
$989.75
Sale

• Save
Installation difficulty: Easy 1/5
Description
Calling all proud Model Y owners with an affinity for the finer details! If you have a genuine love for carbon fiber, prepare to be captivated by our latest offering: the Dry Molded Carbon Fiber Door Armrest Overlays. These meticulously crafted overlays are a testament to the perfect blend of elegance and engineering.
Our door armrest overlays are crafted from the finest autoclave-rich carbon fiber, boasting an impressive high strand content with a 2x2 weave pattern. The result? A strikingly clear and pristine carbon fiber pattern that is beyond imagination.
To truly appreciate the awe-inspiring beauty of these overlays, we invite you to explore our 4K video demonstration. This visual masterpiece showcases the intricate details of the carbon fiber up close, revealing a level of quality and craftsmanship that is nothing short of extraordinary.
Incorporating these overlays into your Model Y is not merely an enhancement; it's a statement of your dedication to exceptional design and craftsmanship. Each time you open your door, you'll be greeted by the exquisite weave pattern of carbon fiber, adding an element of sophistication and individuality to your vehicle.
Elevate your driving experience and indulge in the sublime beauty of carbon fiber. With our Dry Molded Carbon Fiber Door Armrest Overlays, you're not just making a purchase; you're making a statement of unparalleled style and quality. Join us in the pursuit of automotive excellence and experience the remarkable difference that only genuine carbon fiber can bring to your Model Y.
Installation takes 15 minutes for all 4 doors.  
Please watch our demo and installation video below.  You will see the quality of the carbon fiber in 4K !! 
Compatibility
Fits All Model Y's with Generation 2 Center Console. From 2021-2023. Make sure yours center console has an open wireless charging pad.
Warranty
Carbon Pattern Warranty: Real Molded Carbon Fiber is hand laid and is not Prepreg Wet Molded, so it may show imperfections in pattern direction. These variations are normal and are not a manufacturer's defect. Please refer to our Return Policy if you would like to return them.

UV Warranty: Our Real Molded Carbon Fiber is coated with 3 coats of UV Protection. Over time without proper care from waxing or applying a nano-ceramic coating, this protection can wear off. The warranty is limited to 1 year. Slight yellowing is normal for carbon fiber when parked outside in direct sunlight and is not covered under our warranty. To extend the life of our Carbon Fiber, we recommend using "303 Protectant". Ceramic coatings will assist with UV protection and we recommend Ceramic Pro.

NOTE: These are considered USED as soon as the double sided adhesive liner is removed. Used items are NOT RETURNABLE so please be sure you're happy with the way it looks and place it on your TESLA before removing the adhesive liner.
Installation
Our installation videos provide the necessary information to correctly install our products. Therefore, we strongly recommend that you watch the installation video/s both before ordering and before installing our products.
Shipping information: Medium
If you are in Southern California, and want to pickup your order, we are located at 23201 Antonio Parkway, Rancho Santa Margarita CA 92688, please select "Pickup" at checkout.
Variable Shipping Cost Note: When purchasing multiple oversize products, shipping cost will be calculated for each oversized product individually.
NOTE* To see if your order qualifies for lower cost shipping method, please email us with your shipping address prior to purchasing.
INTERNATIONAL ORDERS: International Customers are responsible for all import fees, duties, VAT, GST, TAX, handling fees, and all other import costs in their country. The shipping fees RPM collects only covers shipping & handling.
INTERNATIONAL ORDERS
We ship worldwide, and International Customers are responsible for all import fees, duties, VAT, GST, TAX, handling fees, and all other import costs in their respective country.  The shipping fees RPM collects only cover shipping & handling.