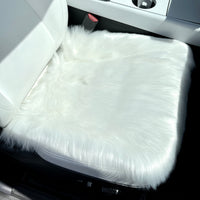 Faux Sheepskin Front Seat Covers - White (1 Pair)
List price:
$61.25
Sale

• Save
Installation difficulty: Easy 1/5
Description
Are you tired of scrubbing your white seats to only find yourself cleaning them again week after week.
Blue Jean stains really are a drag and most owners admit how they cannot get the blue tint out over time.  These are a great solution to the seat staining problem.
These Faux Sheepskin covers are made from man-made materials and they are super soft and stay cool in the summer and they will keep you cool in the winter.  They come in both Black and White
Ideal for front seats with the elastic straps and hooks, but they also work in the back seat as well.  Use them as a throw cover for last minute passengers wearing new jeans, or you can hood them on for all passengers.
In the back seat you simply hook them over the seat fronts and the using Velcro in the trunk area where you feed the straps through.
SPECIFICATIONS:
Measuring approximately 17.5"- 20''
They are hand washable and easy to install.
Made from polyester and a soft ultra suede underside.
DEMO & INSTALLATION:
Installation
Installation Video
Our installation videos provide the necessary information to correctly install our products. Therefore, we strongly recommend that you watch the installation video/s both before ordering and before installing our products.
INTERNATIONAL ORDERS
We ship worldwide, and International Customers are responsible for all import fees, duties, VAT, GST, TAX, handling fees, and all other import costs in their respective country.  The shipping fees RPM collects only cover shipping & handling.