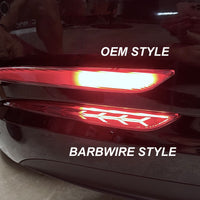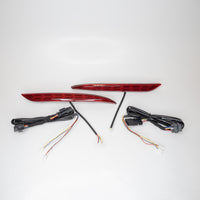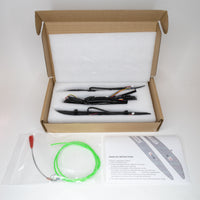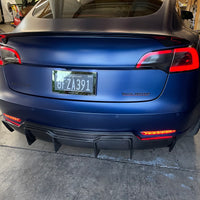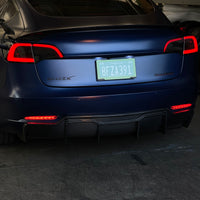 Model 3 Knight-Rider Rear Bumper Reflector LED Upgrade (1 pair) - 4 Styles
List price:
$223.75
Sale

• Save
Installation difficulty: Hard 3/5
Description
     Add a Pair of Smoked Vinyl Wraps to Darken These Lights        

This tail light upgrade kit is an amazingly simple way to transform your Tesla's rear bumper reflectors into Knight-Rider Style Barbwire Turn Signal Indicators while making driving safer by increasing your Tesla's visibility. You gain 2 extra tail lights with a cool floating Knight-Rider LED Turn Signal look.
Featuring 3 Functions to improve your TESLA's visibility:
The LED's blink in a floating outward pattern when you use your turn signals.
When your headlights are on, the LED's stay illuminated and you gain 2 additional tail lights.
When you lift your foot off the accelerator the LED's blink once to alert vehicles behind you that you are slowing down, and then your normal brake lights illuminate.  
Our installation video will teach you how to remove the lower rear bumper reflectors and upgrade them to these beautiful Barbwire style LED Lights.
You can remove your bumper to install these, but no bumper removal is needed as we show you how to fish the wires up to connect them to your tail lights plug.  Plug and Play, no splicing, and no warranty issues.  If you can use a hand drill and remove 6 nuts you can install these.  Please watch our Demo & installation video before ordering.
Everything is included, the fish tape, the LED lights, and the plug and play male and female connectors.  You will need 2 sockets, a ratchet, a pick, and some electrical tape.  
DEMO:
 INSTALLATION:
Compatibility
Not compatible with Model 3 Rear Bumper Reflector Frames
Warranty
1 Year Limited Warranty for this item. Warranties cover defects in design and manufacturing only. Warranties do not cover, among other things: installation errors, wear and tear, acts of God, misuse, abuse, neglect, accidents, collisions, defects due to custom specifications provided by you, or any product modifications, configurations or combinations not performed by us or on our behalf.

RPM's 1 years manufacturer warranty periods start on the date of purchase. You must be the original owner with proof of purchase upon claim or proof of product registration.
Installation
Our installation videos provide the necessary information to correctly install our products. Therefore, we strongly recommend that you watch the installation video/s both before ordering and before installing our products.
INTERNATIONAL ORDERS
We ship worldwide, and International Customers are responsible for all import fees, duties, VAT, GST, TAX, handling fees, and all other import costs in their respective country.  The shipping fees RPM collects only cover shipping & handling.