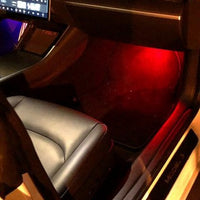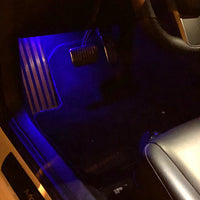 Colored Lighting LED Kit (1 Pair) - Footwells or Trunk
List price:
$69.00
Sale

• Save
Installation difficulty: Easy 1/5
Description
This is 1 pair of colored LED lights designed to light up the footwell or trunk area of your TESLA.
They simply plug right in to replace the stock white lights.  Easy to install, just plug and play.
If you find the white lights distracting these are the solution.  Our colored LED lights add a personalized look while making the footwell lights softer and less distracting.  Many customers also buy these to make their trunk lights colored or to shine downward when you open the doors.  They are great for the back seats of the Model S and X and in the trunk or frunk, wherever you want Red, Blue, or Purple lighting.
Model 3, the footwell lights are part of your ambient light, and the bright white distracting footwell lights stay on while you drive and become brighter when in park.
Attention:  Model 3 Owners with Partial Premium Interiors: These lights will not work as footwell lights as your Model 3 was built with interior ambient lights, but they do not turn on unless you have the Full Premium Interior option.
Model S & X, the footwell lights are not part of your ambient lights, and only light up at night when you are in park and when you open and close your doors.
Easy to install:  No drilling, no wire splicing, no disassembling and no risk of damaging your car.  Just pop out your LED lights and plug ours in.
Sometimes the wire harnesses can be a bit short.  We recommend purchasing this LED light extension.
See our installation video for details.
DEMO & INSTALLATION:
Compatibility
Does not work with Model S or X
Installation
Our installation videos provide the necessary information to correctly install our products. Therefore, we strongly recommend that you watch the installation video/s both before ordering and before installing our products.
INTERNATIONAL ORDERS
We ship worldwide, and International Customers are responsible for all import fees, duties, VAT, GST, TAX, handling fees, and all other import costs in their respective country.  The shipping fees RPM collects only cover shipping & handling.