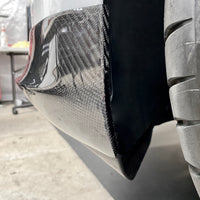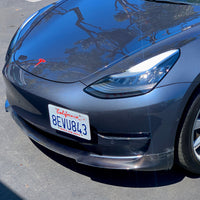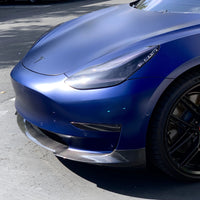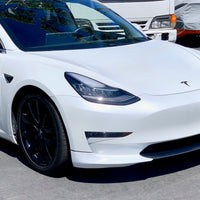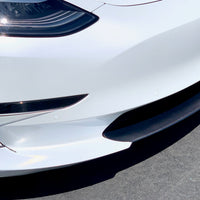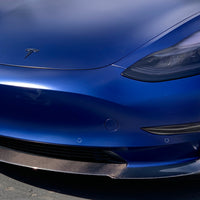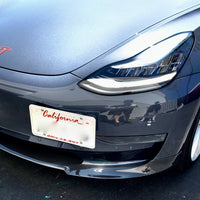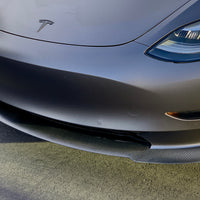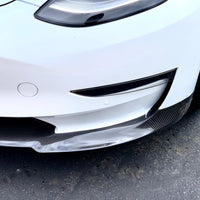 Model 3 Front Lip Gen. 2 - Real Molded Carbon Fiber
List price:
$623.75
Sale

• Save
Description
ESTIMATED LEAD TIME: In stock now!
NOTE: Prep time may take a few business days depending how many open orders there are. Please email or live chat our customer service team and they can give you an ETA on when your order will ship
Add an sporty look to your Model 3's front end with our carbon fiber front lip spoilers.  We are very proud to offer our real carbon fiber molded front lip spoiler.  Our Gen. 2 fits all model 3's and now the extended edges fit all the way around the front edge of your wheel wells, giving it a real OEM look.
Our front lip installs directly over your front end and requires no drilling and no screwing.  This self installs in less than 15 minutes, and is held on with 3M VHB double sided tape.  If you have clear bra, PPF installed, it will install right over it.  If you have any ceramic coatings on your front end, you will need to use a magic eraser sponge to remove the coating in order to insure a strong bond the the 3M double sided tape.  The spoiler will most likely crack if you want to remove it one day, but your paint will not be damaged if removed properly.
All of our Carbon Fiber Spoilers are made from Genuine Molded Carbon Fiber which is woven carbon fiber without fillers.  They are UV and coated Ceramic Pro 9H coated which helps prevent yellowing or fading.
Finish Choices:  The glossy version is rich and very striking, it has a wet look which features a deep 3D lustrous appearance.  Matte is flat, is dry looking, and does not have the same deep 3D look.
Ground Clearance:  The front end ground clearance is only 1/2" lower than your stock bumper. If you have lowering springs or coilovers this will not scratch on curbs or speed bumps. Caution is needed when parking close up to taller parking blocks, but this 1/2" will not affect your normal parking or driving.
Test Fitting Demo Video (Please watch before attempting installation): 
Installation Video:  
Warranty
Carbon Pattern Warranty: Real Molded Carbon Fiber is hand laid and is not Prepreg Wet Molded, so it may show imperfections in pattern direction. These variations are normal and are not a manufacturer's defect. Please refer to our Return Policy if you would like to return them.

UV Warranty: Our Real Molded Carbon Fiber is coated with 3 coats of UV Protection. Over time without proper care from waxing or applying a nano-ceramic coating, this protection can wear off. The warranty is limited to 1 year. Slight yellowing is normal for carbon fiber when parked outside in direct sunlight and is not covered under our warranty. To extend the life of our Carbon Fiber, we recommend using "303 Protectant". Ceramic coatings will assist with UV protection and we recommend Ceramic Pro. Lastly, after you install it we recommend wrapping it in clear bra paint protection film. This will only work on the glossy finish, and will prevent pitting, scratching and denting over time.

NOTE: These are considered USED as soon as the double sided adhesive liner is removed. Used items are NOT RETURNABLE so please be sure you're happy with the way it looks and place it on your TESLA before removing the adhesive liner.
Installation
No screws, no drilling, only double sided tape is used to install this front lip. Simply clean the lower front bumper, then spray on the soapy water solution that we supply, and slide the front lip on. It dries and holds.
Our installation videos provide the necessary information to correctly install our products. Therefore, we strongly recommend that you watch the installation video/s both before ordering and before installing our products.
Shipping information: Large
If you are in Southern California, and want to pickup your order, we are located at 23201 Antonio Parkway, Rancho Santa Margarita CA 92688, please select "Pickup" at checkout.
Variable Shipping Cost Note: When purchasing multiple oversize products, shipping cost will be calculated for each oversized product individually.
NOTE* To see if your order qualifies for lower cost shipping method, please email us with your shipping address prior to purchasing.
INTERNATIONAL ORDERS: International Customers are responsible for all import fees, duties, VAT, GST, TAX, handling fees, and all other import costs in their country. The shipping fees RPM collects only covers shipping & handling.
INTERNATIONAL ORDERS
We ship worldwide, and International Customers are responsible for all import fees, duties, VAT, GST, TAX, handling fees, and all other import costs in their respective country.  The shipping fees RPM collects only cover shipping & handling.