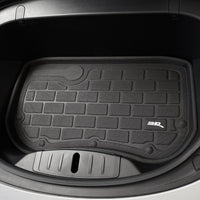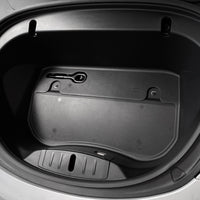 2017-2020 | Model 3 "Finish Your Frunk" Kit - 3D MaxPider
List price:
$123.75
Sale

• Save
Installation difficulty: Easy 1/5
Description
TESLA Model 3 "Finish Your Frunk Kit"
Do not buy this kit if your Model 3 was built in August 2020 or later.  Your frunk has changed on the size of the bottom and the bolt holes no longer can hold our clips.  Please only order if your Model 3 was made from 2017-July 2020.  You can see your build month inside the door jam of your driver's front door.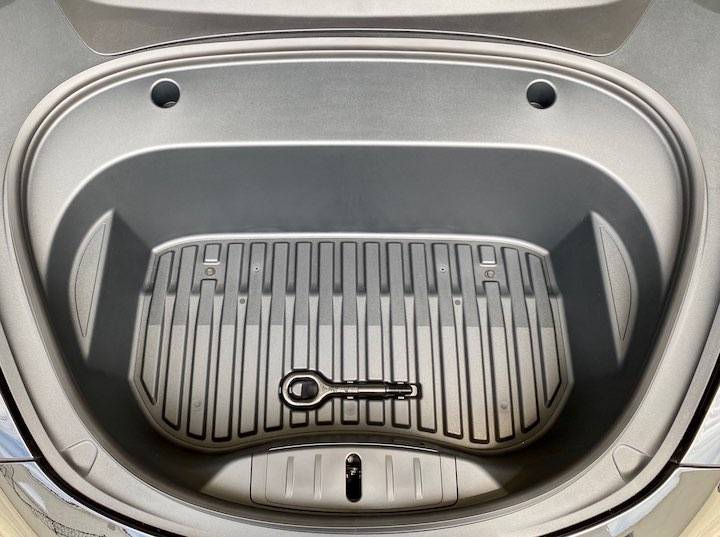 Newer Model 3's front trunks (Frunks) are not finished.  They are missing 2 items found in all 2017-2018 Model 3's.  
The first is the the bottom Frunk Floor Mat that covers the storage tub's plastic bottom and exposed tow hook, and the second are the 2 missing Storage Holding Clip Hooks that hold bags from moving around while you drive. Well this item solves both problems and we sell them both for $59 or for $129.
Our Finish your Frunk Kits consist of 2 of our products:
1st is our Model 3 Frunk Floor Mat made from soft anti slip TPR odorless rubber.  These fit perfect at the bottom of your storage tub and it protects objects from moving around and scratching the bottom of the tub while covering up your tow hook.  The 2nd option for the Frunk Mat is our 3D Maxpider Frunk Matt.  This 3 layer matt is the best on the market and if you have these floor mates this matching trunk mat is a must. The Top layer is made from Thermoplastic textured waterproof Rubber. Middle XPE layer reduces foot fatigue & provides a barrier to road noise.  Bottom layer material is slip resistant to keep liners in place without sliding around.
2nd is a pair of our Bolt Cover Holding Clip Hooks. These cover up the exposed bolt heads at the top of the frunk storage area. They also open and close so you can hook objects over them so nothing slides around in your frunk. They are made from ABS injection molded plastic, and are not 3D printed so they will not crack when used to hold heavier bags.
If your Model 3 was made before August of 202 then this the perfect way to Finish Your Trunk! 
OTHER items for your FRUNK
We also offer a Frunk Organizer and a Frunk and Trunk Noise Reduction Kit, and a Carbon Fiber Sill Plate Cover. Each of these will protect, quiet, and make your frunk look great when you open it.
Installation
Our installation videos provide the necessary information to correctly install our products. Therefore, we strongly recommend that you watch the installation video/s both before ordering and before installing our products.
INTERNATIONAL ORDERS
We ship worldwide, and International Customers are responsible for all import fees, duties, VAT, GST, TAX, handling fees, and all other import costs in their respective country.  The shipping fees RPM collects only cover shipping & handling.