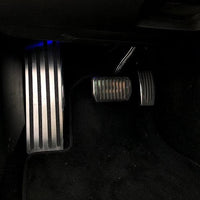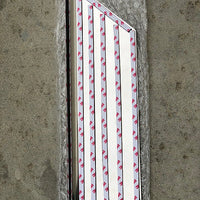 Model 3 & Y Footrest - Dead Pedal
List price:
$48.75
Sale

• Save
Installation difficulty: Easy 1/5
Description
Fits all Model 3's and Y's. Floor Mats from 2020 are different because the plastic footrest is missing now and the floor mats cover the installation area.  We have 2 ways to install it.
This beautiful footrest pedal is a great match for the soon to be released performance pedals.  Watch our video for details and installation options by clicking HERE.
PROMOTION:  If you want a matching set of pedals, including this Dead Pedal and the 2 performance pedals, accelerator and brake pedal. Just add that item along with this one to your shopping cart and the Dead Pedal will be 75% off or only $13. Enter Promo Code PEDALS at check out.  This cannot be combined with our 20% Off automatic discount so make sure you do not have $150 or more in your shopping cart. Total for all 3 pedals is $43 with this promo.
Details:  Made of Brushed Stainless Steel designed to compliment the metal performance pedals and attaches with High Bond 3M tape to the factory vinyl footrest pad.  
Face of Pedal has non-slip lines that support your driver left foot, and it is very easy to install, no drilling or tools required.  Pedal can be removed at a later date if desired.  Footrest Pedal provides a rich, clean look that brightens up your foot well area.
DEMO & INSTALLATION:
Installation
Our installation videos provide the necessary information to correctly install our products. Therefore, we strongly recommend that you watch the installation video/s both before ordering and before installing our products.
INTERNATIONAL ORDERS
We ship worldwide, and International Customers are responsible for all import fees, duties, VAT, GST, TAX, handling fees, and all other import costs in their respective country.  The shipping fees RPM collects only cover shipping & handling.