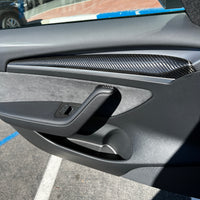 2021+ | Model 3 & Y Front Door Dashboard Extension Overlays - Variety*
List price:
$223.75
Sale

• Save
Installation difficulty: Easy 1/5
Description
This product is great if you want to get rid of the vintage wood look.  We have 5 different options for these accent overlays depending on what type of look you are going for.  Please see photos for more details.
Note:  The Grey Alcantara Wrap option is not a solid piece.  Please watch the installation video for more details.
Note for customers purchasing the Matching Dashboard Cap:  Please check the installation Tab for more info. 
COMPATABILITY:
Fits 2021+ Model 3's and 2022+ Model Y's with new interior door panels.
INSTALLATION:
Cap Version:  Hold the door panel cap up to the door and test the fitment and position before removing the tape. Then when good, just peel and stick, very easy to install, no water no mess. Please watch our installation video on the above TAB before ordering and to see how easy this installs.  
Wrap Version:  Just clean, promote, and peel and stick. Please watch the video before ordering.
NOTE for customers purchasing the matching dashboard cap:  If you are looking to purchase our Front Door Panel Accents along with our matching Dashboard cap, some customers have mentioned clearance issues due to the thickness of the ABS Plastic. We suggest having a second person with you to assist in the dry fitment test prior to removing the red liner backing and full installation.  Prior to installation, you must check that your dashboard has the proper clearance allowed for the doors to close so that the Front Door Panel Accent Overlays and the Dashboard Cap don't bump each other. If they do, then you must center the dashboard cap first so that there isn't any overhang on either side. This should fix that Clarence issue. If the bumping persists, please reach out to our customer service team to see what options you may have prior to removing the red tape backing.
CAP INSTALLATION:
WRAP INSTALLATION:
Compatibility
Fits 2021+ Model 3's and 2022+ Model Y's with new interior door panels.
Warranty
Carbon Pattern Warranty: Real Molded Carbon Fiber is hand laid and is not Prepreg Wet Molded, so it may show imperfections in pattern direction. That is the beauty of Carbon Fiber. All of our Hydro Printed products use a process called Hydro Dipping. This Water Transfer Process is also susceptible to Pattern Variations. These variations are normal and are not a manufacturer's defect. Please refer to our Return Policy if you would like to return them.

UV Warranty: Our Real Molded Carbon Fiber is coated with 3 coats of UV Protection. Over time without proper care from waxing or applying a nano-ceramic coating, this protection can wear off. The warranty for Real Molded Carbon Fiber is limited to 1 year, while the warranty for Hydro Printed products is 6 months. Slight yellowing is normal for carbon fiber when parked outside in direct sunlight and is not covered under our warranty. To extend the life of our Carbon Fiber, we recommend using "303 Protectant". Ceramic coatings will assist with UV protection and we recommend Ceramic Pro.

NOTE: These are considered USED as soon as the double sided adhesive liner is removed. Used items are NOT RETURNABLE so please be sure you're happy with the way it looks and place it on your TESLA before removing the adhesive liner.
Installation
Our installation videos provide the necessary information to correctly install our products. Therefore, we strongly recommend that you watch the installation video/s both before ordering and before installing our products.
INTERNATIONAL ORDERS
We ship worldwide, and International Customers are responsible for all import fees, duties, VAT, GST, TAX, handling fees, and all other import costs in their respective country.  The shipping fees RPM collects only cover shipping & handling.