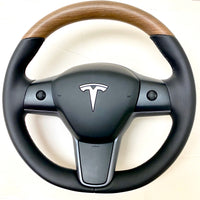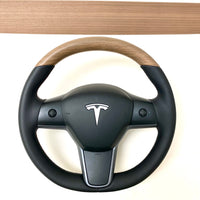 Model 3 & Y - Open Pore Wooden Steering Wheel Top Only
List price:
$1,497.75
Sale

• Save
Sales Price:
$599 - $1199
Installation difficulty: Expert 4/5
Description
PLEASE EMAIL/LIVE CHAT US FOR THE RETURN LABEL FOR YOUR CORE DEPOSIT REFUND. 

RPM is Proud to offer TESLA OEM Heated Carbon Fiber Steering Wheels for Model 3 & Y.   Full Carbon wheels cannot be made heated. Your Original Wheel must be heated to work. Only $200 Extra. Just order any of our Non-Imported steering wheels and let us know in the Note to RPM if you want it heated version. We will send you a $200 invoice for this to be added to the assembly of your steering wheel.  
These fantastic open pore top half wood steering wheels are the best you can buy, ours cost about 1/3 the price of our competitors.  The wood veneer matches the wood dashboards perfectly as you can see in photo 2.  The rest of the wheel is no affected and not changed at all.  
Here is what you get and how buying it from RPM works:  
Again, you are buying a brand new Tesla OEM Steering wheel, and your airbag and switches are removed from your current wheel and put right into this one. We get brand new wheels from Tesla and we removed the leather cover and the poly urethane rubber under it, leaving a steel wheel core.  Then we vacuum form the open pore wood to the wheel core. It only takes 15 minutes to install and again.
With your purchase we ship your new wheel to you along with the 2 allen wrenches you will use to remove and reinstall the airbag, we also send you the allen socket to unscrew the wheel itself. If you live in Southern California we will install your new wheel for free, and we can install it in 15 minutes.  
INSTALLATION:
WOOD MATCH:
WHITE AIR BAG WRAP:
Installation
Our installation videos provide the necessary information to correctly install our products. Therefore, we strongly recommend that you watch the installation video/s both before ordering and before installing our products.
INTERNATIONAL ORDERS
We ship worldwide, and International Customers are responsible for all import fees, duties, VAT, GST, TAX, handling fees, and all other import costs in their respective country.  The shipping fees RPM collects only cover shipping & handling.